Engaging with teachers to nurture the next generation of neuroscientists
7 September 2023
By April Cashin-Garbutt
How do I know if my students are already using ChatGPT? Can we differentiate between AI and student responses? Could AI be a useful teaching tool in science? These were some of the most common questions teachers submitted ahead of the Sainsbury Wellcome Centre's very first event aimed at engaging with educators on the impact of neuroscience and AI on the future of education, delivered in collaboration with Voight-Kampff and NeuroGEARS.
This event formed part of a new teacher engagement initiative at SWC to help increase our impact nurturing the next generation of neuroscientists through inspiring and enabling successful careers in neuroscience. In this blog post we share some of our recent activities and next steps.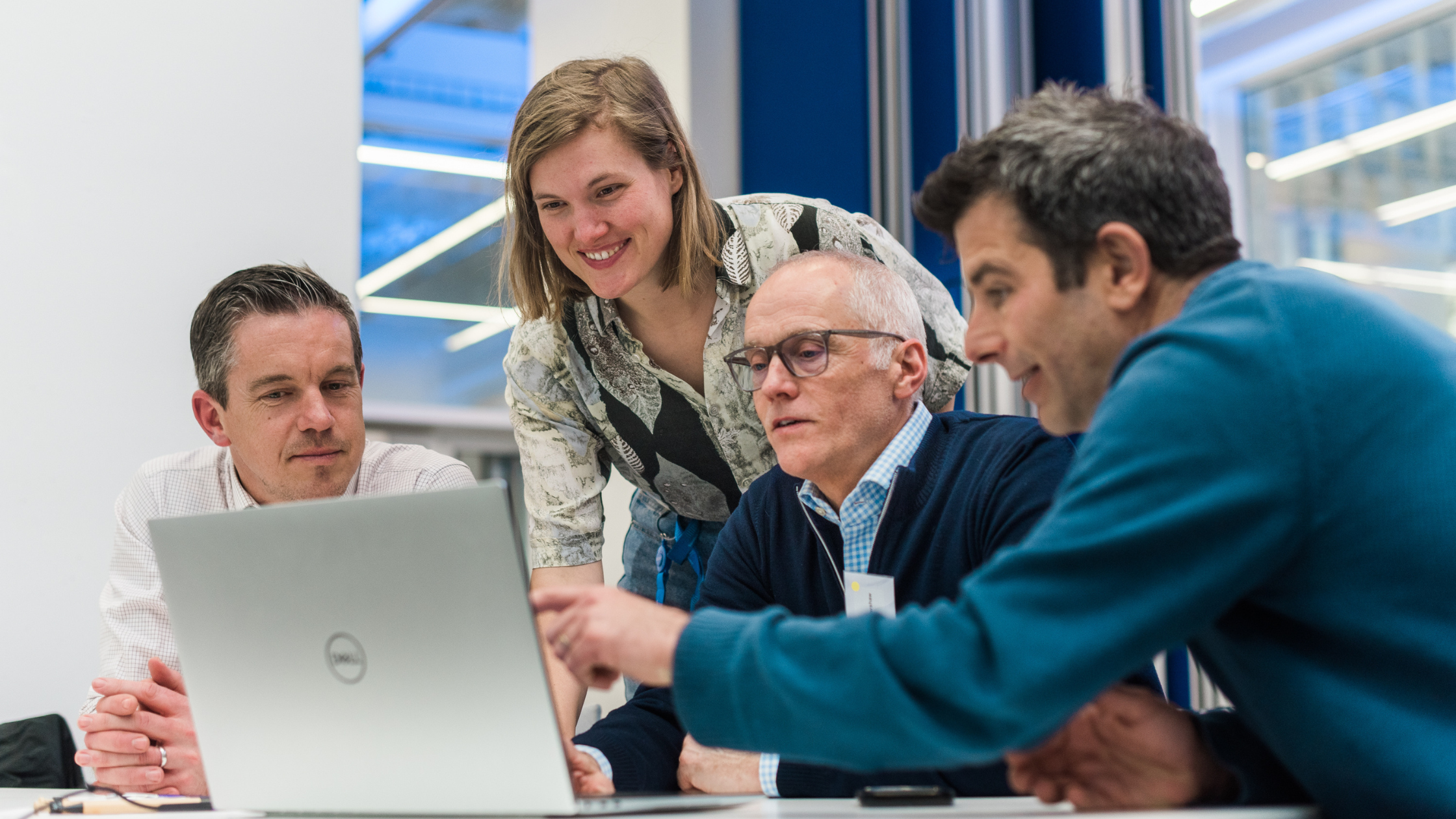 Credit: James Tye Photography
Delving into the black box of AI tools
Our inaugural teachers event began with an inspiring talk by Adam Kampff, Director at Voight-Kampff and previously a Group Leader at SWC. Adam gave an insightful history of AI and delved into the black box of ChatGPT. Following Adam's talk, the attendees, consisting predominantly of secondary school teachers from around London, formed small groups and were each assigned a SWC/GCNU postdoc or student to help guide them through the hands-on activities.
Each group was given a neuroscience topic to research, but half the teachers were allowed to use ChatGPT whereas the other half could only use traditional search engine tools. The groups then came together to discuss how they found the experience and test what they had learnt through the different methods. The exercise highlighted both the benefits and pitfalls of using ChatGPT and the teachers and SWC/GCNU researchers discussed how such AI tools could be used in education.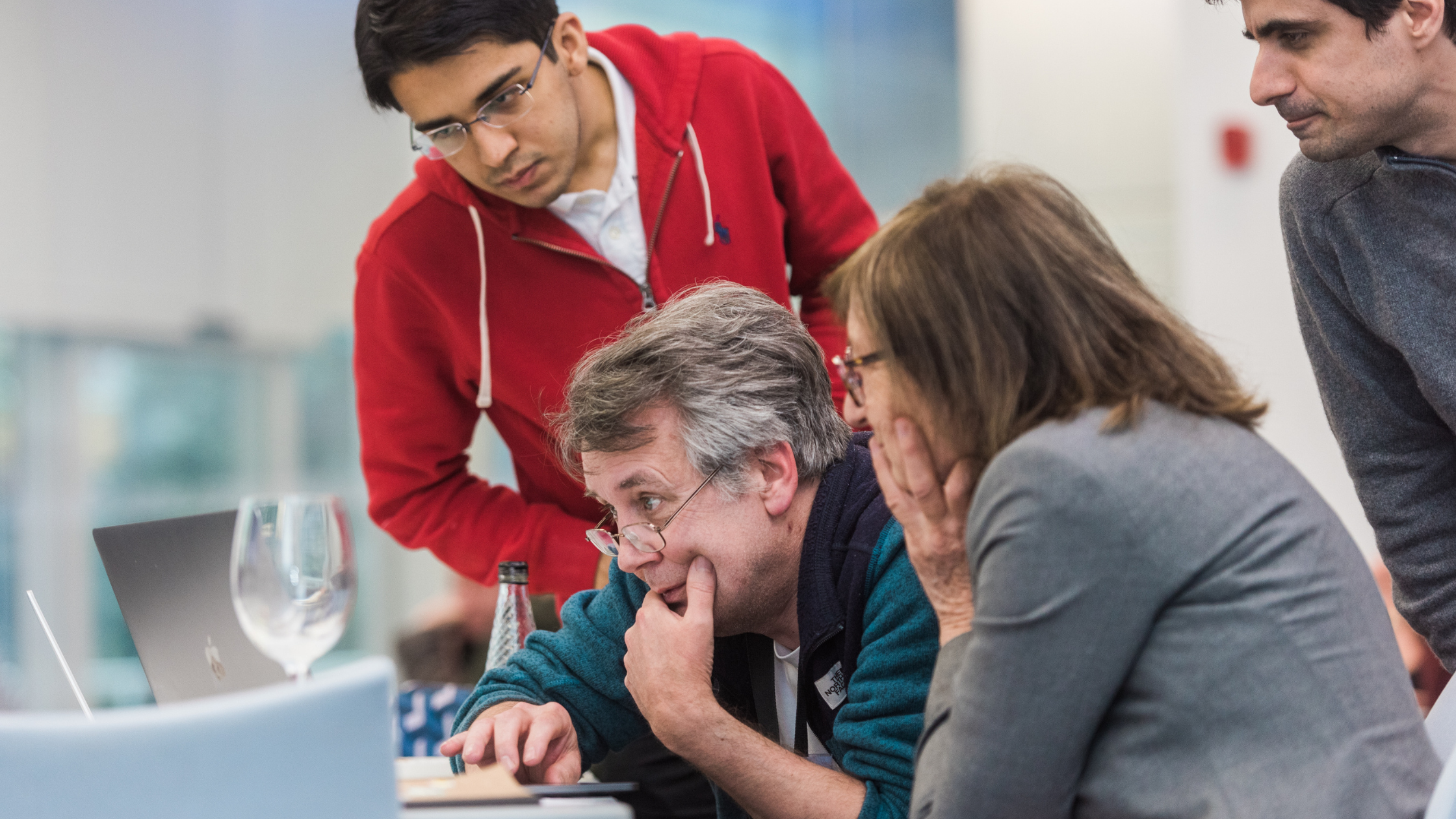 Credit: James Tye Photography
To help evaluate and guide our future activities, all attendees also engaged in an interactive exercise at the end of the event where they submitted ideas on AI tools that would be most useful in their teaching; other AI and neuroscience topics they would like to know more about and other resources they would find helpful.
The teachers' responses were very insightful including AI tools to help their students learn better and algorithms to produce assessments that probe students' understanding further by taking account of prior performance. Teachers were interested in knowing more about how the brain learns optimally, how AI can be used as a learning tool and the role of universities in the future. They were also looking for newsletters with useful resources, similar courses and training, and networks to connect with other teachers.
The impact of the event was measured further by follow-on engagement, including one attendee confirming that they are now using ChatGPT in their revision lessons with students.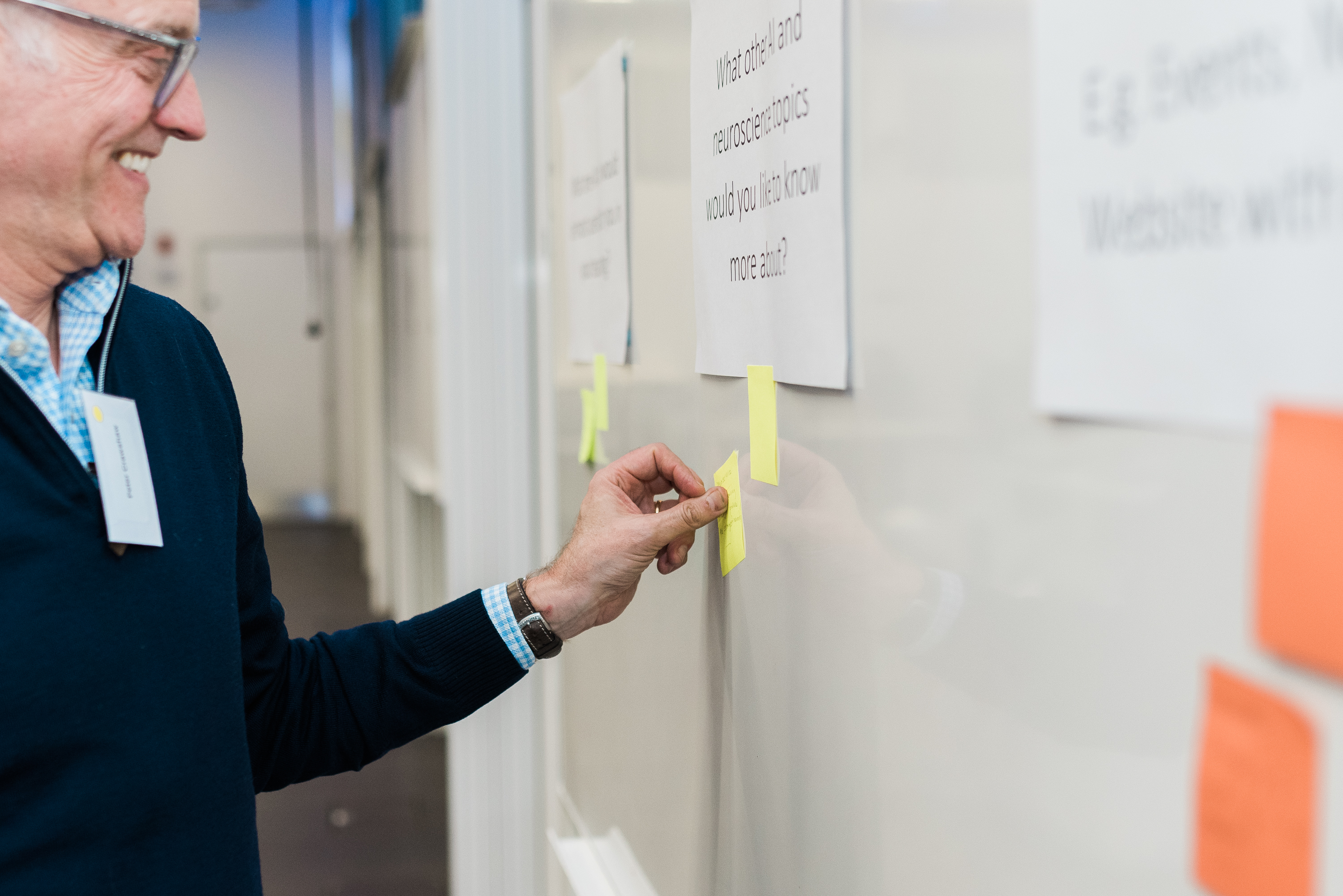 Credit: James Tye Photography
Nurturing the next generation
Following the inaugural teacher event at SWC, our researchers and PhD students engaged with many more teachers at The Big Bang Fair, an annual science fair in Birmingham, where we exhibited in the Teachers Hub. Over the three-day exhibition in June, we met with over 200 STEM teachers from secondary schools around the UK and had insightful discussions about teachers' experiences and needs for neuroscience, AI and STEM career resources in the classroom.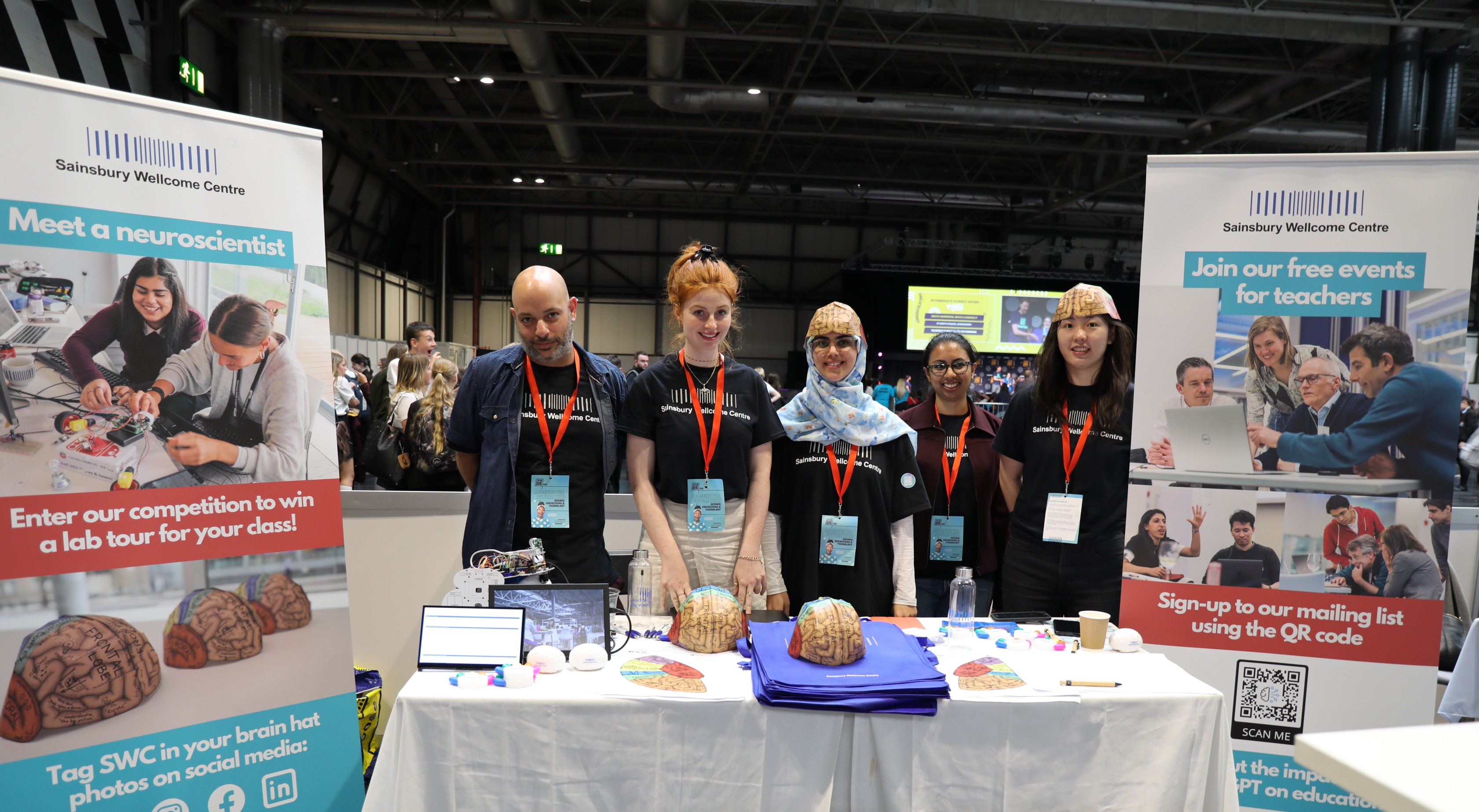 Credit: Sainsbury Wellcome Centre
Following the exhibition, we shared a digital copy of the brain hemisphere hat activity along with more teaching resources with all the teachers who signed up to our new Teachers Mailing List.
A number of teachers also entered into our Brain Hat competition for a chance to win a tour of the SWC facilities for their class. Science Club students in Key Stage 3 at Hillcrest School, a secondary school in Birmingham, were selected as the winners and the group will visit SWC and meet with scientists and students this autumn.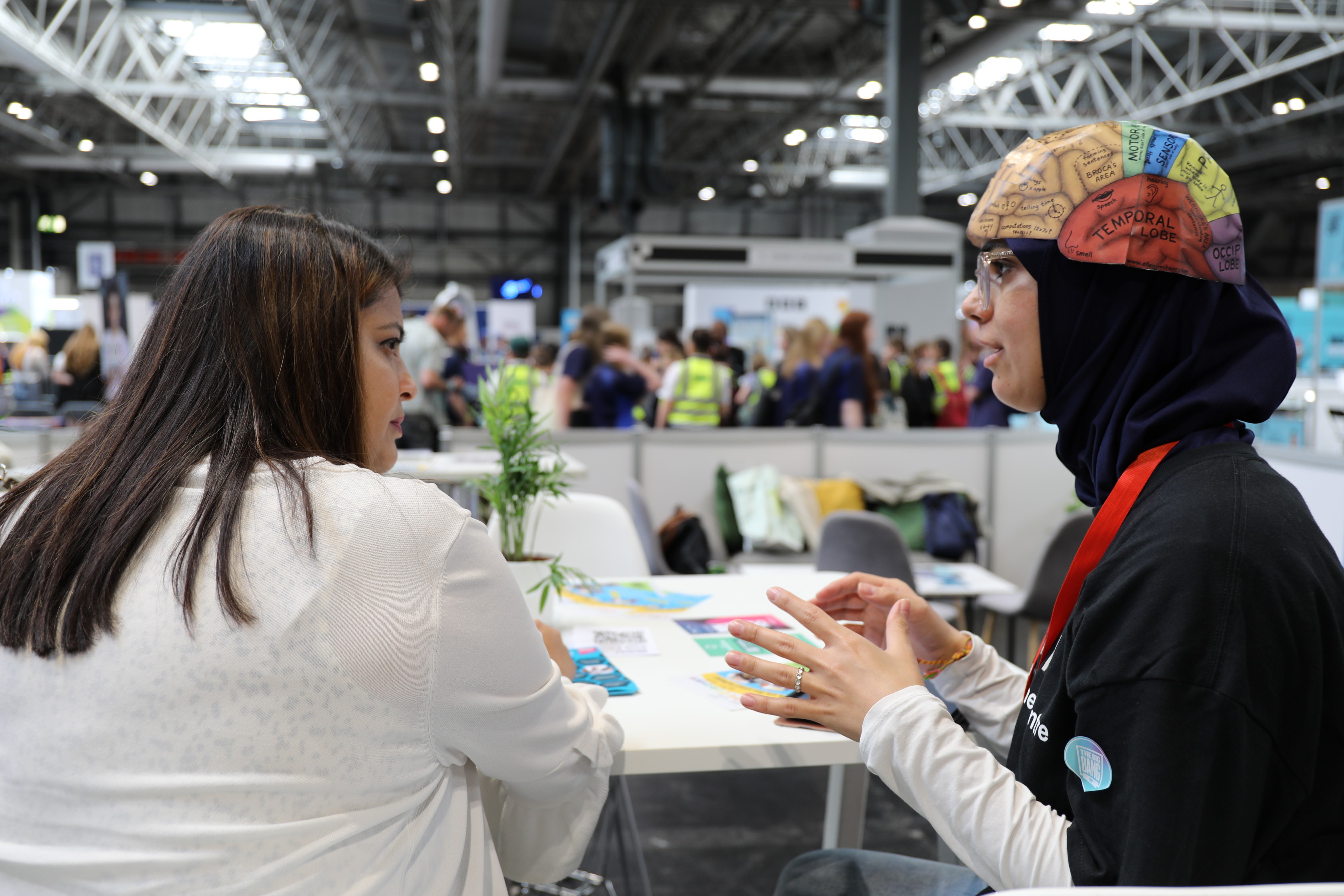 Credit: Sainsbury Wellcome Centre
Supporting teachers further
To help support teachers further we have also launched a new area of our website with free resources and teaching ideas for use in the classroom and school science clubs. This includes neuroscience videos, career profiles, virtual tours of key spaces in our neuroscience institute and a scavenger hunt to test students problem-solving skills.
Our next steps are to collaborate with the teaching community to build on these initial resources. We plan to make resources from our two SWC-sponsored summer schools – Neuronauts and BrainCamp – openly available to teachers via our website and share updates via our new Teachers Mailing List.
For further information on our teacher engagement opportunities, please contact the SWC Engagement Team.