Why Join SWC?
Located in the heart of London, the Sainsbury Wellcome Centre (SWC) offers a vibrant and interactive place to study and work. The Centre has strong links with the Gatsby Computational Neuroscience Unit, housed in the same building, as well as with collaborators across UCL and the London neuroscience community. Find out more about living in London.
We have an exciting programme of seminars and social events, regularly hosting external lectures, weekly tea hour socials, fortnightly data club sessions for sharing research, and our prestigious annual SWC Lecture.  
Collaborative space
The building was designed with collaboration in mind and you'll often find people together, whether they're scribbling formulas on the walls for discussion, eating lunch on the rooftop terrace, cheering on PhD students as they present their bootcamp robots, or enjoying the sunshine in the courtyard.  
We have two floors of open lab space that intersect with the Gatsby Unit's computational labs to make collaborative working easy.  Our open-plan write up areas oversee the labs, and there is access to a number of break-out spaces and meeting rooms for group working and discussion. In addition, we have our own lecture theatre and seminar rooms used for teaching and events. 
Our on-site brasserie serves breakfast, lunch, snacks, a range of hot and cold drinks and excellent coffee! The dining room leads onto the rooftop terrace, which is a popular socialising spot. We also have kitchen facilities and social spaces across multiple floors including access to a fussball table. There is a wellbeing room available for relaxation, medication administration, breastfeeding and wellness. In the courtyard we have table tennis for when you need a break. We also have bike racks and tools for our cyclists as well as showers, changing rooms and lockers for all.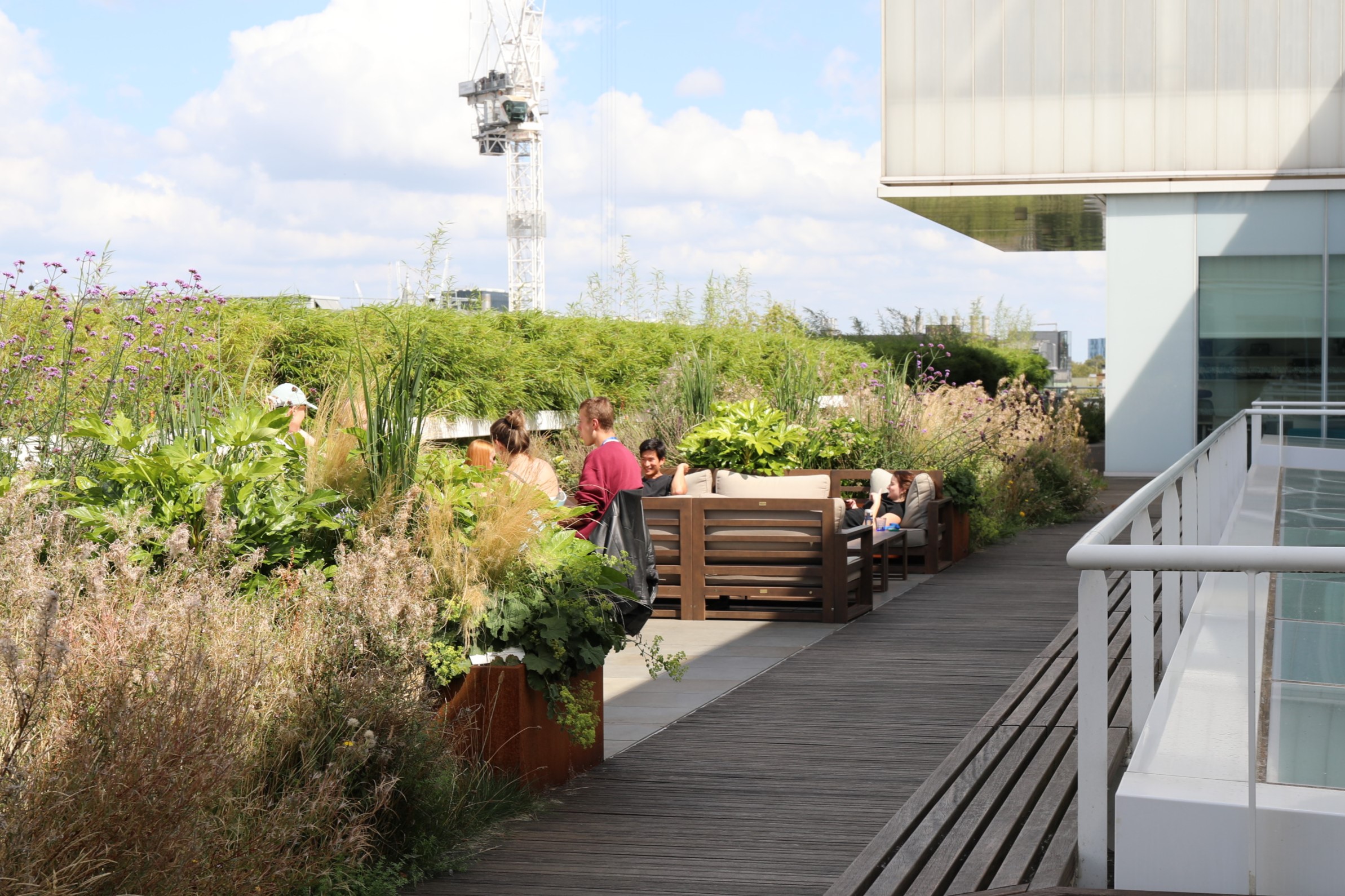 Located in London
Based in Fitzrovia, the SWC is surrounded by multiple restaurants, shops and bars and we are just a short walk away from Tottenham Court Road and Oxford Street. The SWC has strong transport links, with Goodge Street and Warren Street tube stations within five minutes' walk, and Euston and Kings Cross St Pancras close by.  
Benefits and opportunities
SWC staff are entitled to UCL's full range of benefits and development opportunities.  Our students are fully financially supported by SWC, but also have access to UCL's student resources.
Our values and commitments
We are committed to making SWC an extraordinary place to do neuroscience and are guided by the following values: