Why study at SWC?
Our students receive a comprehensive introduction to systems neuroscience, as well as intensive training in experimental techniques, including imaging, physiology, molecular, and behavioural methods in systems neuroscience.
The Programme is taught by SWC faculty together with colleagues at the Gatsby Computational Neuroscience Unit and other affiliated institutions, all experts in their respective fields.  Gatsby and SWC students overlap extensively during the Programme, building the foundations for long-lasting collaborations and friendships.
You will live and work in central London, with the highest concentration of neuroscience research in the world.
SWC students are fully funded and receive an annual stipend of £24,278, as well as funds to attend international courses or meetings. We also cover the cost of tuition fees for both home and international students.
The SWC PhD is your opportunity to receive world-class training as a neuroscientist and launch an exciting career in academia or industry. Apply to join our pool of exceptional students from around the globe.

Programme Overview
The SWC PhD is a four-year programme. Below is a short overview of each year.
Year 1
The first year is centered around courses - Boot Camp, Systems Neuroscience and Theoretical Neuroscience, Experimental Neuroscience, Neural Data Modelling - and rotations.
All students begin by attending Boot Camp, a three-week course covering the fundamentals of neuroscience and technology – the things we believe everyone should know before they begin their quest to discover new things. The course, developed in partnership with the Cajal Advanced Neuroscience Training Programme, is a centred around a fundamental principle: no "black boxes". 
In short, Boot Camp covers everything from electrons to intelligence and empowers students to build an increasingly sophisticated robot, learning about neuroscience principles and technologies (hardware and software) along the way.
Elena Dreosti and Adam Kampff describe The Last Black Box course for PhD students at the Sainsbury Wellcome Centre. To find out more about the Cajal Programme visit: www.cajal-training.org
Once the first term begins, students in the SWC and Gatsby PhD programmes together attend Systems Neuroscience & Theoretical Neuroscience, an intensive lecture course in which SWC and Gatsby faculty take turns giving lectures from the angle of their area of expertise.
In parallel with this, SWC students learn advanced experimental neuroscience techniques in a hands-on practical course centering on three areas: electrophysiology, optics and microscopy, and learning and behaviour. Here, the first-year students will for example implement a 1,000 channel in vivo recording system, build their own two-photon microscope, and develop a closed-loop behaviour assay.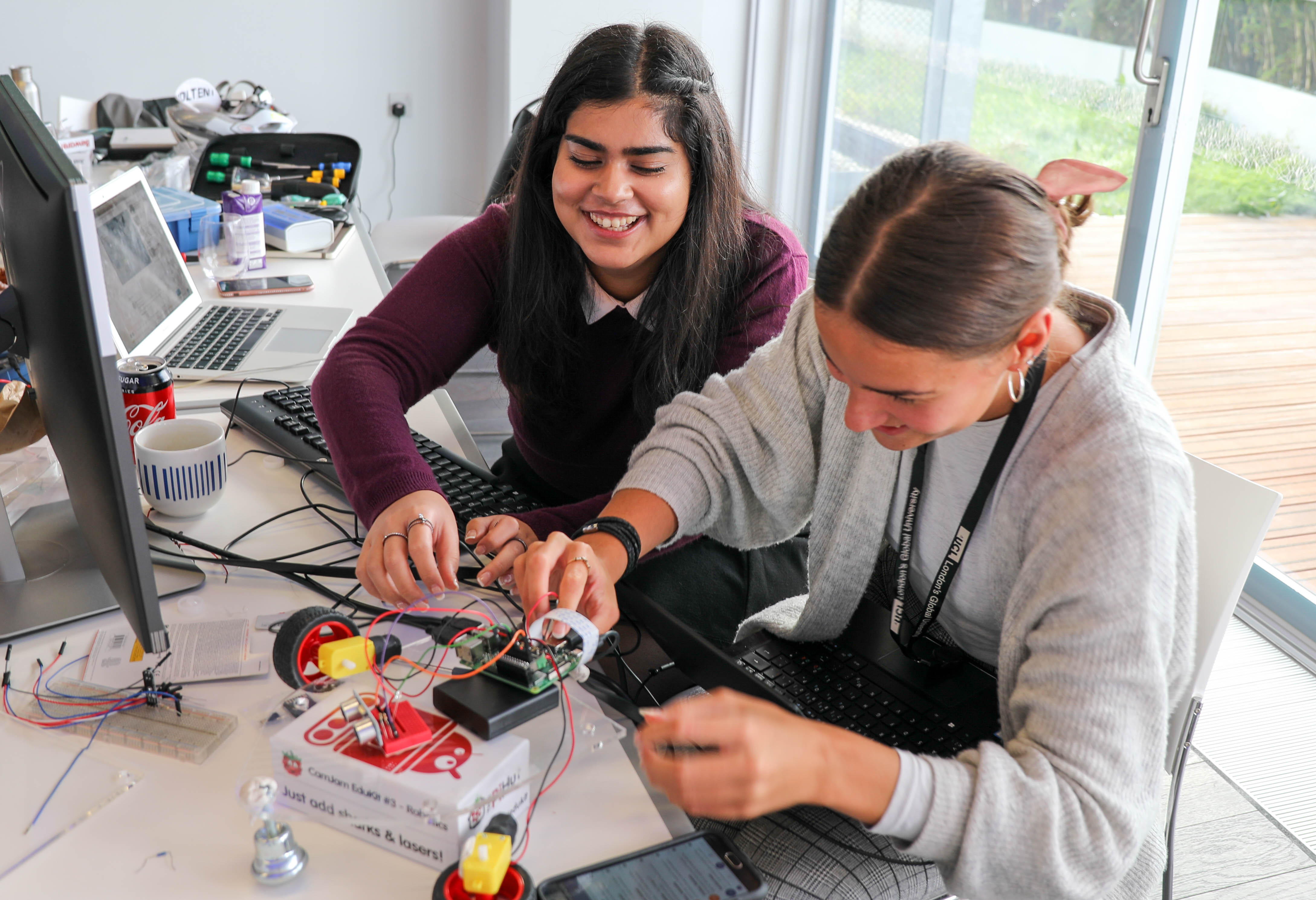 Year 2
During the second year, students design a PhD project, select supervisors and begin their research. They also assist with teaching the new first-year students.
Year 3
Third year students write a report and take a viva exam to upgrade from MPhil to PhD. Apart from this, the year is centered on research.
Year 4 and beyond
The last year, students complete their research and make a detailed plan for the time remaining until graduation. They write and submit their PhD thesis and sit a viva examination.
You can access the theses of previous PhD students through UCL Library Services and online via UCL Discovery.
Across years
All Centre members are invited to participate in journal clubs and learning groups organised by students, post-docs and researchers. 
We also encourage students to take advantage of the wide range of transferable skills courses available through the UCL Doctoral School.