Neuronauts 2022
Neuronauts is an exciting, new 2-week summer camp for London secondary school students entering years 10 and 11 that will teach students fundamentals in engineering, computer science, and neuroscience required to run their own behavioural neuroscience experiments.
The deadline for applying to Neuronauts 2022 has now passed and applications are closed. If you are interested in attending next year's course or smaller, similarly themed sessions that may take place over Fall 2022 and Spring 2023, please email Neuronauts@ucl.live.ac.uk or jai.bhagat.21@ucl.ac.uk
What will Neuronauts 2022 involve?
Students will make use of a "neurokit" consisting of a LattePanda microcomputer, EMG sensor, and an electronics starter kit. They will learn how the brain communicates with the body via electrical signalling and neurotransmission, the physics behind common electronic devices and computer systems, and how to create experiments and analyse data in the Bonsai and Python programming languages.
A final project will consist of building their own acquisition systems used to record electrophysiological responses in a novel experiment that they imagine, create and design from scratch. 
When and where will Neuronauts 2022 take place?
The camp will be held at the Sainsbury Wellcome Centre at UCL from July 25 - August 5. The camp will be held Mondays - Fridays from 930 - 1730. 
The camp will be fully funded including: lunch, snacks, transportation costs (within London Zones 1-6), and all required equipment will be provided.
History of Neuronauts
Neuronauts is a sister programme of Neuronautas, and was additionally inspired by the annual SWC Ph.D. bootcamp. Below are pictures and videos taken from projects of earlier students.
Elena Dreosti and Adam Kampff describe The Last Black Box course for PhD students at the Sainsbury Wellcome Centre. To find out more about the Cajal Programme visit: www.cajal-training.org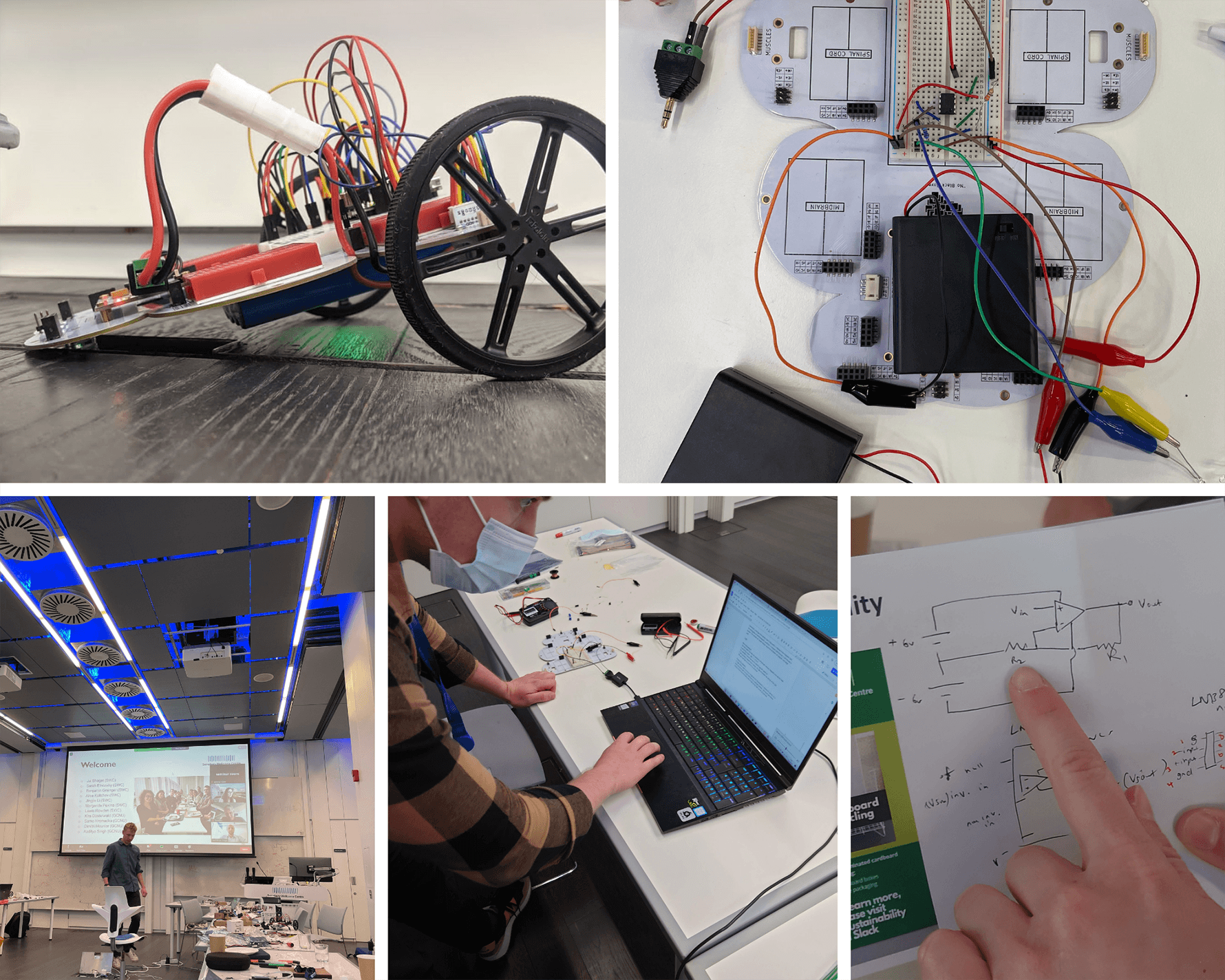 Credit: Jai Bhagat and Alice Koltchev
Frequently Asked Questions from Applicants
Neuroscience is the study of the nervous system (brain, spinal cord, nerves) and how this system lets us interact with our environment (e.g., seeing or smelling), move our bodies, and imagine both the past and the future (e.g., remember nice holidays we took or predict our crush's reaction when we ask them out). At Neuronauts we will study neuroscience with a mix of classroom lectures, in-person experiments, and hands-on data collection.
Computer science is the study of the structure and interpretation of computer programs and how they can do mathematics (e.g., a calculator), automate processes (e.g., an assembly-line robot), or store information (e.g., a digital photo album). At Neuronauts we will study computer science with a mix of classroom lectures and hands-on time to build simple robots and other computing systems
Yes! Scientists come in all shapes and sizes, including those who didn't like school or struggled with grades. (Not to mention, most of the things that scientists work on don't have much to do with school or grades.) Are you curious about how the world works? Do you like getting creative, or solving puzzles or problems? Do you like working with your hands, to build or draw? If you said yes to any of these questions, and you are interested in neuroscience and computer science, we absolutely want you to apply
Yes! Good news—every scientist who ever was started with no experience! If you have ever built something, taken a photo, written down your thoughts, figured out maths on a scrap of paper, solved a puzzle, or done any activity where you had to be creative and observant, you already have experience as a scientist. As a Neuronaut, you will grow your experience specifically within neuroscience and computer science, so if you like these topics, you will have a great time. 
Would you believe it if we told you that many of the scientists leading Neuronauts have at some point been told the very same thing? And yet here we are! There is no single way to look or act like a scientist. A scientist is anyone who is creative, curious, and observant about the world around them—that's it! If you want to learn and play with other creative and curious people, you will absolutely fit in with the Neuronauts team
Yes! Accommodations can absolutely be arranged to make sure you can get the most out of Neuronauts. When you fill out your application form, please tell us a bit about your needs at the end, so we have ample time to do a good job with this.
We don't want anyone to feel like they can't attend Neuronauts because they can't afford it. Over the two-week course, we will cover the costs of: 
Your travel to and from Neuronauts via public transportation, from within any London postcode.

Your course materials, like notebooks, pencils, and equipment.

Your snacks and lunch for each day of the course.
Travel will be paid for via reimbursement, but if that's an issue for you (or if you're slightly farther afield than London), be in touch and we will sort something out.
Fair point! We don't want to go to school either, so we designed Neuronauts to be all about play. (Did you know that one of our organisers is a puppeteer?) About 25% of the time will be spent in lectures, to cover some fundamentals (but these are designed to be fun, with no homework!). The rest of the time will be spent doing hands-on work in teams, writing code, and running experiments. The full course schedule will be available on this webpage in June
To make it the best possible experience, you should be able to attend the full course of Neuronauts. You will learn new things across the days, build on that knowledge, and then use it in your own projects. Therefore, it's important that you'll be able to attend from the starting day until the last day, for most of the scheduled hours.