Remembering Richard (1989-2022)
12 April 2022
We are deeply saddened that Richard Bennett, who served as a Computer Officer at SWC and GCNU from 2016, passed away last month at the age of 32.
Richard passed away peacefully in his home in Woking and will be lovingly remembered by his partner Emma, family, friends and colleagues, especially those from the IT team, who worked closely with him over many years.
Kind-hearted, caring and always generous with his time and expertise, Richard will be sincerely missed by the SWC and GCNU community. We extend our deepest sympathies to Richard's family and friends at this time and we will provide an update on our plans to pay tribute to Richard in due course.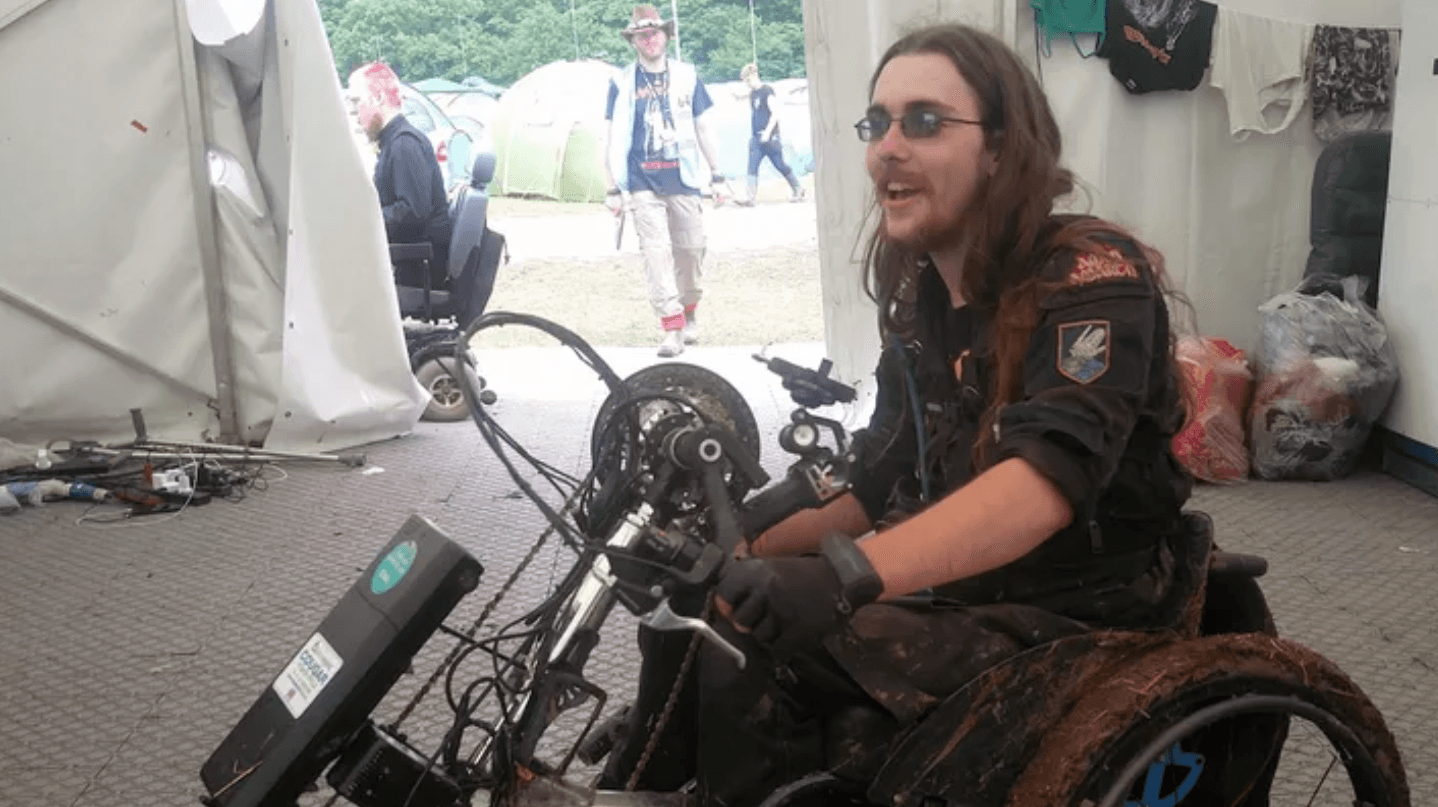 "I can't quite believe that Richard is no longer with us. He was such a good guy who had great ideas and always solved problems so easily. I learnt so many skills because of him and he helped me find myself as a manager. I will miss our deep conversations and hearing his voice in the corridor. Whenever I asked Richard a question, he always used to say: 'do you want the short answer or the long answer?' But even the short answers were comprehensive. Richard, I am devastated and will miss you greatly." Richard Mumba, IT Relationship Manager
"Richard was a larger-than-life character and was highly popular, which is no mean feat for someone that works in IT.  What he didn't know about PC internals wasn't worth knowing and he could, and would, wax lyrically about various tech issues for hours if you let him. He refused to let his condition control his life but instead he took ownership of it and brandished it, @CrippledCyclist !  He was always a champion of the underdog, partly as a result of being a wheelchair user himself, and would rail against injustice wherever he perceived it.  There are many people in the wider world that have been inspired by him and have utilised his templated letters to fight for disabled people and cyclists alike. Always striving to help others, during the pandemic, he turned his home into a face shield factory, using his expertise in 3D printing, and was churning out up to 112 printed sets a week for 3DCrowd UK.  We've lost a friend, colleague and a force for good in this world.  The corridors of SWC will not be the same without him whizzing past from time-to-time. He will be dearly missed." Dr John Pelan, Head of Scientific Computing
"Being the close colleague of Richard and sitting in the same office as him, I was very close to him. I remember many things about him now. He was a very chatty guy. He loved to share his experiences with people and I never hesitated to share with him my own experience about anything or any technical problems. He was a good technical guy and had answers to many of my questions. He used to talk straight to everyone and I never felt he distinguished his conversations between seniors and juniors.  I will miss him. Rest in Peace dear Richard. My deepest condolence to his family and to all his loved ones. May God Almighty give them the strength to bear this sad loss." Yousuf Hussain, Computer Officer
"I was deeply saddened by the terrible news of Richard Bennett passing away. It came as a shock as just couple of days back we had been discussing few things on Teams. I have worked with Richard at UCL since 2012/13 and got a chance to see how knowledgeable he was when it comes to IT matters. We will miss him dearly in our IT team and want to extend my sympathies to his family." Burhan Mahmood, Senior Systems Administrator
"From the very first moment I met Richard, it was obvious he was a big character, full of life and charisma. Then as we got to know each other, his intelligent humour and a sense of purpose shone through. He was a joy to talk to, whether passionate banter about cycling in London or his deep knowledge of all matters related to computers and IT. While tragically Richard has been taken away from us, his spirit lives on, through our corridors, labs and offices. He remains part of SWC in our memories." Tom Mrsic-Flogel, Director
"Richard was such a bright light at SWC and we will really miss him. Not only was his expertise appreciated but his intellect and passion for issues of justice truly stood out. We will all remember him as a dear and talented colleague." Tom Otis, Chief Scientific Officer
"I can distinctly remember my first meeting with Richard several years ago. I was sat at my new desk staring at a collection of new computer parts with an all too familiar expression of confusion across my face. To my surprise, no more than a minute after asking for help had Richard appeared at my side, introducing himself with a smile and a clear excitement toward diving into the problem at hand. He spent the following hour with me not just helping solving my problem, but going above and beyond in teaching me how everything worked, doing so with an infectious enthusiasm and knowledge that soon replaced my confusion with excitement. He became the person I specifically sought for help in the future, because I left almost every conversation with him learning something new, from the historical reason for naming parts on a graphics processing unit, to a reason why I should escape Windows and move to Linux. I will deeply miss him, as will all of us here who had the pleasure of knowing him, and I am very sorry for your loss." Daniel Regester, PhD Student
"I worked in an office very near Richard and had many chats with him over the years about all sorts of things, particularly cycling. What I'll remember about him is his passion, strong desire to give the best possible service for computer users and his ability to think outside of the box for solutions. He will be greatly missed not just by the centre IT team but by everybody in the Unit." Mike Sainsbury, Administrative Manager, GCNU
"I was shocked to the core when I heard the news of Richard's passing. Richard was a real character who I feel privileged to have known for many years both here at the SWC and during his time in Biosciences. We have had many interesting conversations at times with contradictory viewpoints on a wide range of subjects from politics to science fiction. Richard will be seriously missed by everyone I know who knew him." Stephen Burton, Experimental Officer
"I had the chance to work with Richard for many years and I am so deeply sorry for your loss.  I will remember Richard as someone that would always offer his help, selflessly, never giving up until getting where he wanted to be.  We have lost a very warm, generous friend.  Our thoughts are with you." Mateo Velez-Fort, Senior Research Fellow
"We have a saying in France that the best are the first to leave us. Richard's passing confirms this as during my time as his colleague he was always the most helpful by far. He was really dedicated, often going beyond his duty to ensure that we could do our job efficiently. He will be sorely missed." Charly Rousseau, Research Engineer at the Paris Brain Institute and former Senior Research Associate at SWC
"I was very saddened to hear of the loss of Richard. I worked with him in Biosciences and was very pleased that he joined the SWC shortly after I did. Over the years I've come to see Richard as more of a friend than a colleague. I can still hear his voice when he would visit the stores on his way in every morning, firstly you'd know he was there as he'd skid past the stores counter, turn around and come back with an enthusiastic 'Alright Blaney'. He always sounded happy to see you and we often chatted about all sorts of topics. He generally took an interest in you and what you were up to. During lockdown I'd been working on a project at home, designing and 3D printing parts for it, I was so looking forward to showing him my work as he would have shown an interest and encouraged me more without a doubt. I wish I had more friends and colleagues like him, he will be missed but not forgotten. Please accept my deepest condolences, best wishes." Ian Blaney, Stores & Logistics Manager
"Richard was full of energy, knowledge, and ideas, and always ready to help. He invariably took time to make sure you understood the context and was good at explaining things in a way that made them accessible to a non-expert. I am deeply sorry for your loss; it is ours too." Klara Olofsdotter Otis, PhD Programme Coordinator
"Richard was absolutely brilliant to work with - when submitting IT requests it felt like I had hit the jackpot if he was assigned to my job. He was an incredibly smart guy and it was a real privilege and luxury to have someone like him at SWC. Just a week before his passing we were exchanging emails and I was learning more about RAM than I ever dreamed I would.  He had amazing energy and was obviously capable of many great things, which is why it's so sad to lose him so young. Everyone that worked with Richard will remember him as a very impressive and kind man." Tristan Chaplin, Research Fellow
"Sending my heartfelt condolences to Richard's family and friends. I'll remember Richard as someone who always had time for people - be it a long conversation putting the world to rights or saving the day with a last-minute IT problem. He will be greatly missed at SWC." Rose Haigh, HR Manager
"My name is Joaquin. I work as a research software engineer for the Gatsby Computational Neuroscience Unit, in the same floor as Richard did. I have been fortunate to interact with Richard many times, as my office was on his way to the restrooms, and this offered us chances to meet and talk. I love to bike, and Richard told me in detail about his adventures riding around London in his bike, and with his camera. To me Richard was a strict, correct and determined person, as well as very knowledgeable. I will miss our conversations." Joaquin Rapela, Research Software Engineer, Gatsby Computational Neuroscience Unit
"Richard was a truly amazing colleague and will be deeply missed at SWC. My thoughts and condolences are with his family and loved ones at this difficult time." Sepiedeh Keshavarzi, Senior Research Fellow
"I'm deeply saddened to hear about Richard, he was always extremely helpful and very knowledgeable and I will never forget the skill and speed with which he flew around the building. His was a really genuine and one of a kind character. He will be missed." Emmett Thompson, PhD Student
"I unfortunately didn't know Richard that well, even though I arrived at SWC in 2017, however in our limited interactions he was always very polite, very kind and ready to help. He also loved to have a chat about anything when sharing an elevator :) At some point we tried very hard to get something to work for my setup and it just wasn't working, but I remember him asking me a while afterwards whether I had found a solution. I found that very considerate. I was very sorry to hear about his passing and I wish his family strength." Egzona Morina, PhD Student
"Richard was a living oxymoron: one of the coolest yet nerdiest people I ever met : ) He was incredibly kind, knowledgeable, enthusiastic, and joyful. He would always go out of his way to help me with small things for my project and share computer hardware and systems knowledge with me in general, stuff that I didn't think I would need but ended up being super helpful. I think he had more computer hardware knowledge than the rest of the building combined. He'll be greatly missed, but it's nice to see how his impact will live on, both from the knowledge he's shared and from the way he lived his life." Jai Bhagat, PhD Student
"I was really shocked to hear what happened. I'd had quite a few interactions on a professional level, and he was always more than willing to help. I was working with him when he was constructing the ergonomic laptop desks that we use with the NRF, and it was really nice to see how much he cared about them, and how much of himself he was putting into it. His knowledge was second to none, and he was very thorough with me, explaining everything and making sure I knew what I had to do moving forward. I wouldn't have been able to work it all out without him. But he also gave me some really good advice when buying a personal laptop and spent a fair amount of time sat with me, again, explaining what I needed to look for and what would suit my budget. He gave me three options, and I chose one, which is still the laptop I use today 4 years later. At all times, he was interesting and interested, talkative, happy to give up his time to help and a real gentleman. I'm not going to pretend like we were best mates, but I had a lot of time for him. He was a good guy. I hope his family can find some comfort in the positive experiences which I am sure other people within the SWC had with him, and please pass on my condolences. I hope they can find some peace." Louis, NRF
"I wish I could compose a great poem for Richard or in fact any poem but alas it's never going to happen, I'm a Tin Basher and that's my thing. It means I have no worthy literary skills, but Tin Bashers are not immune from emotion which is a good thing because it enables us to remember and recognise The Good Guys who cross our paths. I'm going to refer to Richard from here on in as Ricardo as that's what I always called him and when I was in trouble with the Demon that is known as computing Ricardo always rode in and exorcised my digital nightmares and returned the workspace to a sea of calm and my blood pressure to a safer zone! We knew that when we called a Ricardo visit there was a price to pay and that price was boundless nerdy enthusiasm and 3DP questions, we're going to and are missing already that unstoppable energy and unique persona. Well done Ricardo you made your mark at SWC and we're all so much better off for your energy." Robb Barrett, Advanced Manufacturing Fabrications Laboratory Manager 
"I was deeply shocked and saddened to hear of the passing of Richard. He was an enthusiastic and bright colleague, always willing to help and assist with our IT enquiries. His friendly and bright personality will be missed by all SWC colleagues. Sincere Condolences" Doug Ward, Head of Building Facilities and Compliance
"Please accept my deepest and sincere condolences for the sudden loss of Richard. He was not only the most knowledgeable, valuable and skilful colleague I could have hoped to work with, but also a dear friend.  He will never be forgotten and we will miss him a lot." Dario Campagner, Research Fellow
"Richard has touched the lives of so many at SWC and all over London with his extensive nerdy knowledge. The way he worked towards making everyone feel more welcome and accepted shall always be an inspiration. I'll miss Richard B, profusely." Sharbatanu Chatterjee, PhD Student at Sorbonne University and former Research Assistant at SWC
"I am so sorry to hear about Richard's passing. I really enjoyed having him as a colleague. When I just joined the SWC as a PhD student, Richard gave me a lot of advice and even custom-built a PC for me. During the years, he not only taught me a lot about computers, he also always went over and above to help me or others, showing real care about his colleagues. We were very lucky to have him at the SWC." Jesse Geerts, Research Fellow
"I was so sorry to hear of Richard's passing. I have great memories of strategizing on London cycling routes with Richard, swapping tips for road light choice and reflectors, and researching outrageous gadgets (helmets with automated turn signals, light-up spoke patterns). He was a warm and generous presence at Gatsby. My condolences to his family." Arthur Gretton, Professor, GCNU
"I often worked with Richard, and he was always happy to share his encyclopaedic knowledge. I learnt an incredible amount from him, and I'm very thankful for all the interactions we had. Richard was always generous with his time, going above and beyond to help anybody who asked. Only since his passing have I learnt how this extended outside of work, and the magnitude of the impact he's had upon huge numbers of people, campaigning for disability rights and promoting active travel. Richard's passing is an incredible loss for so many people. My condolences to all those who were close to him, he will be greatly missed." Adam Tyson, Scientific Software Lead at the Institute of Cancer Research and former Research Fellow at SWC
Richard was a strong campaigner for disability rights and justice and a GoFundMe has been established in his memory in aid of Fundraising for three accessibility groups he worked with: Wheels for Wellbeing, Transport for All and DPAC - Disabled People Against Cuts. https://www.gofundme.com/f/in-thanks-to-richard-the-heavy-metal-handcyclist