Sainsbury Wellcome Centre for Neural Circuits and Behaviour opens
8 June 2016
The Sainsbury Wellcome Centre was officially opened on 23 May by Nobel Laureate Professor Eric Kandel.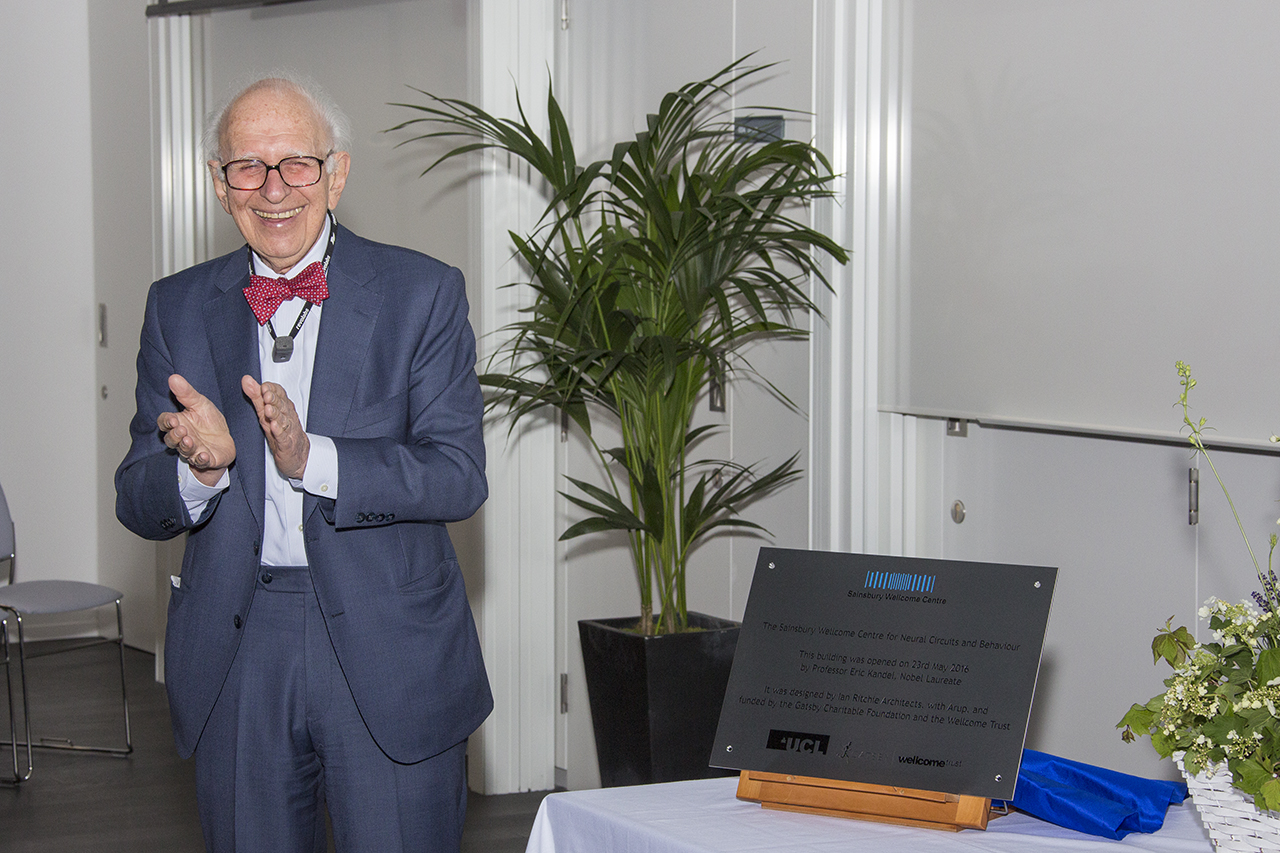 Based at UCL, the new centre brings together world-leading scientists to investigate how brain circuits process information to create the neural representations that guide behaviour.  

It provides state-of-the-art facilities for experimental neuroscience research and houses the Gatsby Computational Neuroscience Unit. To foster a culture of innovation, collaboration, enquiry and excellence, 12 highly interdisciplinary experimental research groups will be accommodated in the new, purpose-designed, seven-storey building. 

The Centre is funded by the Gatsby Charitable Foundation and the Wellcome Trust and the building was designed in consultation with neuroscientists from across the world. 
Lord David Sainsbury, Settlor of the Gatsby Charitable Foundation and the Gatsby Trustees are delighted that Professor Eric Kandel, neuroscientist and Nobel Laureate officially opened the new Sainsbury Wellcome Centre for Neural Circuits and Behaviour. In response, Lord Sainsbury said, "My charity began supporting neuroscience at UCL in 1998, with the establishment of the Gatsby Computational Neuroscience Unit. The success of the Unit coupled with significant technological advances in the field led us to undertake Gatsby's most ambitious project to date - in partnership with the Wellcome Trust - establishing the Sainsbury Wellcome Centre for Neural Circuits and Behaviour."

"I am delighted that following many years of hard work in planning, design and construction this vision has been realised and with the celebration of the official opening the scientists will now forge ahead with the challenge they have been set to explore the relationship between gene activity, neurons, neural circuit function and behaviour – in other words understanding how circuits within our brains give rise to complex behaviours". 

UCL's Vice Provost (Health) and Head of UCL School of Life and Medical Sciences Professor David Lomas said, "This impressive new centre, and the work of the world-leading scientists in it, will enrich the already formidable work of UCL Neuroscience. The SWC joins a collaborative network of more than 450 principal investigators making fundamental discoveries about brain function and behaviour."  

It is one of the first buildings designed to deliberately incorporate knowledge from neuroscience into its fabric from inception.  The building is adaptable so the scientists moving in will have the opportunity to choose how the labs are set up in a relatively painless and easy way. One entire wall of the SWC is made of translucent glass, which allows soft daylight to filter into the building while reducing the need for artificial lighting and acts as one continuous whiteboard for scientists to explore ideas and share thoughts. 

There are two different types of neuroscience taking place in the building - experimental and theoretical and the design of the building encourages successful interactions. This is reflected in the design of the wavy façade where two different waves reflect these two types of research activity.  

Jeremy Farrar, Director of the Wellcome Trust, added "The Sainsbury Wellcome Centre is a wonderful environment to work in, with vision, great people and inspirational leadership. It is a beautiful building and an investment which will inspire many generations of researchers to come."