SWC and GCNU receive an Athena Swan Bronze Award
13 January 2022
The Sainsbury Wellcome Centre (SWC) and Gatsby Computational Neuroscience Unit (GCNU) at UCL are pleased to announce we have received an Athena Swan Bronze Award for our commitment to promoting gender equality. This joint departmental award reflects the welcoming and inclusive culture that both SWC and GCNU are building and our ongoing work to ensure that equality and diversity are central to both departments' strategies.
"Like many other STEMM areas, experimental and theoretical neuroscience face serious challenges with gender diversity. The Athena Swan Bronze Award recognises our commitment to addressing these issues including career development barriers, research culture challenges and improving mentoring and career development programmes," said Professor Tom Otis, Chief Scientific Officer at SWC and Co-Chair of the joint Athena Swan Self-Assessment Team (SAT).
"This award reflects the hard work of a team of Gatsby and SWC individuals who care deeply about finding new ways to improve the working culture for women, parents, and early career researchers. Working on this application has been a particularly eye-opening experience and I am excited about many of the actions and policies that we are already implementing that will help advance the careers of women and other individuals in STEMM," said Dr. Ana Saraiva Ayash, Scientific Programme Manager at GCNU and Co-Chair of the joint Athena Swan SAT.
Also commenting on his enlightening experience of being a member of the joint Athena Swan SAT, and particuarly his experience of watching and discussing the 'Picture a Scientist' documentary that was shown at a film screening event in the building, Robb Barrett, Advanced Manufacturing Fabrications Lab Manager at SWC, said: "I didn't realise when I was asked to become involved with Athena Swan for SWC the effect it was going to have on me and my perceptions of the process, or in fact science and scientists, and how important it is we have this process in place."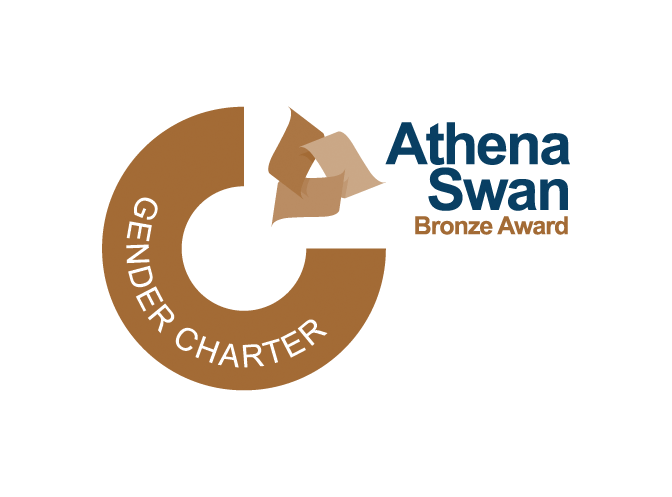 The Athena Swan Charter was established in 2005 to encourage and recognise commitment to advancing the careers of women in science, technology, engineering, maths and medicine (STEMM). The framework is used across the globe to address gender equality within higher education and research. UCL was one of the first universities to sign up to the scheme and was awarded its first university-wide Bronze award in 2006, and has since renewed this award in 2009 and 2012. In 2015, UCL received its first institutional Silver Athena Swan award, which was renewed in 2021. SWC and GCNU are the 43rd department at UCL to receive a Bronze Award and have ambitions to build on this success by demonstrating evidence of impact from actions implemented.
The joint SWC-GCNU Athena Swan SAT was formed in 2018 and includes diverse members from both departments working across a variety of roles including PhD students, postdoctoral fellows, research staff, professional services and faculty members. Together the team collected and carefully considered Athena Swan-relevant data and suggestions for actions that would improve equality, diversity and inclusion within the two departments. Throughout the process the SAT sought broad input across the institutions including two surveys of all members of SWC and GCNU.
"I am hopeful that the work plan we put together in the Athena Swan Committee will advance gender equality at SWC and GCNU and ensure that all early career talents, regardless of their background, will have the opportunity to thrive and become future leaders. The first step involved identifying barriers, through discussions and surveys, and to come up with solutions to mitigate or eliminate them. Now that we have a plan, we look forward to implementing it," said Dr. Sepiedeh Keshavarzi, Senior Research Fellow, Margrie Lab at SWC and member of the joint Athena Swan SAT.
The joint submission Action Plan identified the following priorities:
Support for students
Support for staff – especially at key career transition points
Recruitment, promotion and retention
Career breaks and flexible working
Organisation and culture
Download the full SWC and GCNU Athena Swan Bronze submission and Action Plan
About the Athena Swan Charter
The Athena Swan Charter is a framework which is used across the globe to support and transform gender equality within higher education (HE) and research. Established in 2005 to encourage and recognise commitment to advancing the careers of women in science, technology, engineering, maths and medicine (STEMM) employment, the Charter is now being used across the globe to address gender equality more broadly, and not just barriers to progression that affect women. For further information, please visit: www.advance-he.ac.uk/equality-charters/athena-swan-charter
About the Sainsbury Wellcome Centre
The Sainsbury Wellcome Centre (SWC) brings together world-leading neuroscientists to generate theories about how neural circuits in the brain give rise to the fundamental processes underpinning behaviour, including perception, memory, expectation, decisions, cognition, volition and action. Funded by the Gatsby Charitable Foundation and Wellcome, SWC is located within UCL and is closely associated with the Faculties of Life Sciences and Brain Sciences. For further information, please visit: www.sainsburywellcome.org
About the Gatsby Computational Neuroscience Unit
The Gatsby Unit is a research centre at UCL supported by the Gatsby Charitable Foundation. Since its establishment in 1998, the Unit has contributed breakthroughs that have helped to shape thinking in neuroscience and AI. GCNU work closely with colleagues in the Sainsbury Wellcome Centre and the broader UCL Neuroscience community, the Centre for Computational Statistics and Machine Learning (including the AI Centre), at DeepMind and other companies, and at research institutions in Europe and around the world. For further information, please visit: www.ucl.ac.uk/gatsby
Media contact:
For more information or to speak to the people involved, please contact: