Joint SWC/GCNU Group Leader awarded Schmidt Science Polymaths Award
30 June 2022
Associate Professor Andrew Saxe awarded $2.5 million over 5 years for interdisciplinary research 
The Schmidt Science Polymath program has today announced a $2.5m award to Associate Professor Andrew Saxe, joint Group Leader at the Gatsby Computational Neuroscience Unit and Sainsbury Wellcome Centre at University College London (UCL).
Dr Saxe plans to use the funding to explore how humans and animals learn. Starting first with theory, the Saxe lab will develop experiments to test hypotheses and accelerate the theory-experiment loop.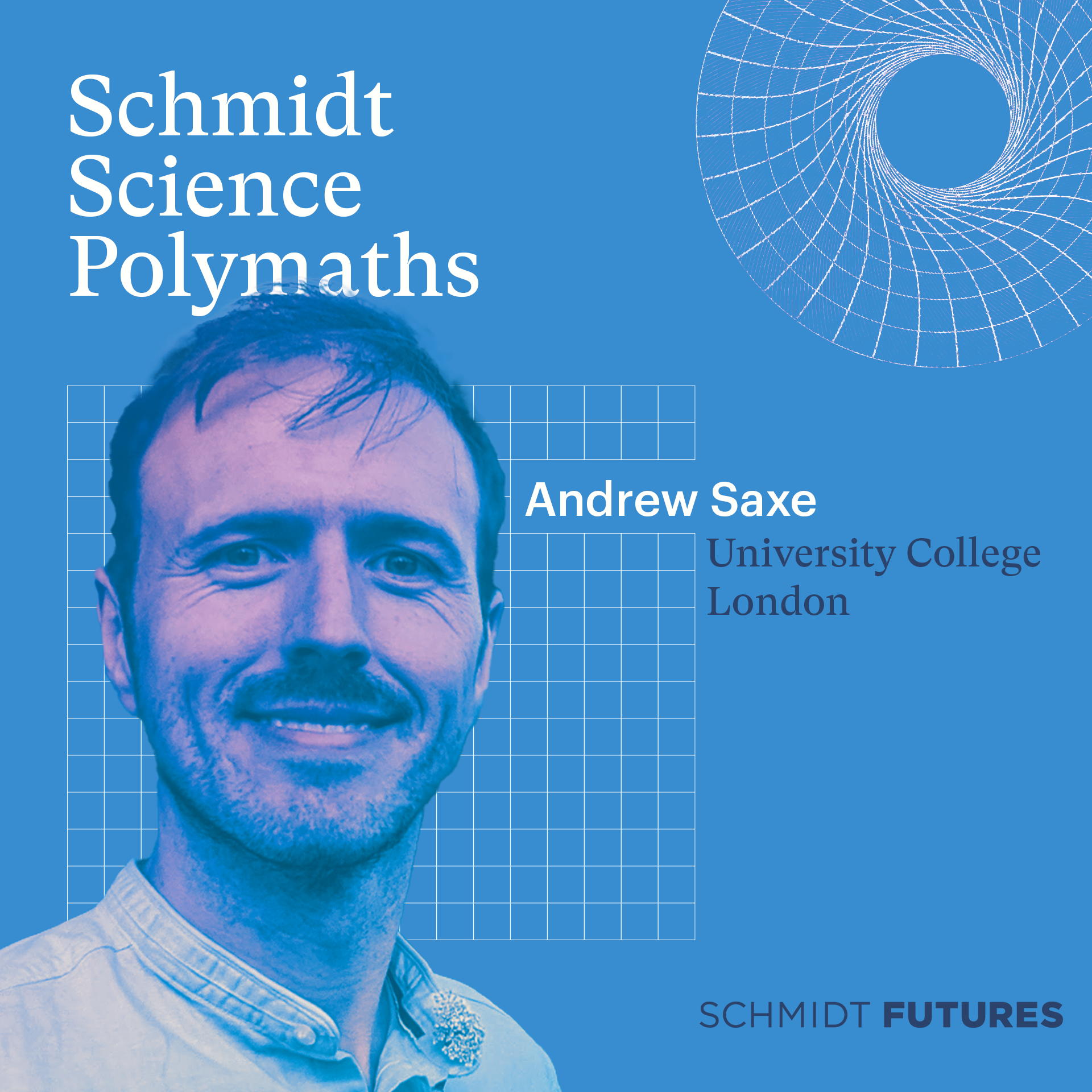 The Schmidt Science Polymath program provides philanthropic support to academics with remarkable track records, promising futures and a desire to explore interdisciplinary research. The program aims to encourage the best "polymath" scientists to explore innovative research and test creative theories that otherwise may not receive funding.
Dr Saxe said:
"I'm incredibly excited to receive the Schmidt Science Polymaths Award. It's a fantastic initiative that will enable me to explore novel ideas in diverse fields and start experiments in my lab to tackle the feedback loop between theory and experiment.
"Techniques in artificial intelligence and in neuroscientific experimental methods have recently made huge leaps forward, and I'm excited to see how we can bring these advances together to better understand how we learn." 
Through this approach, Dr Saxe hopes to help close the feedback loop between experiment and theory, which could lead to impactful breakthroughs in experimental and computational neuroscience.
The award, which will last 5 years, will help support Dr Saxe's research group through talent, including students and postdocs, and resources. 
Angharad Milenkovic, Vice-President Advancement at UCL, said:
"Philanthropic programs like the Schmidt Science Polymaths Award play a crucial role in advancing research by giving some of our sharpest minds the opportunity to expand their research portfolios and take them in new directions. It enables research that pushes boundaries and has the potential to significantly expand our knowledge and understanding of the world."
About the Schmidt Science Polymath program
The Polymath program makes long-term bets on recently-tenured professors with remarkable track records, promising futures, and a desire to explore risky new research ideas across disciplines. Ten awardees were announced today and they are the second group to receive the Polymaths award, joining just two other exceptionally talented interdisciplinary researchers named in 2021. The awards build upon Schmidt Futures' commitment to identifying and supporting extraordinary talent, and growing networks empowered to solve hard problems in science and society. For more information, please visit: www.schmidtfutures.com/our-work/schmidt-science-polymaths/
Eric Braverman, CEO of Schmidt Futures, said: 
"The interdisciplinary work that could herald the next great scientific breakthroughs are chronically under-funded. We are betting on the talent of the Schmidt Science Polymaths to explore new ideas across disciplines and accelerate discoveries to address the challenges facing our planet and society."
Stuart Feldman, Chief Scientist of Schmidt Futures, said: 
"Single-minded -specialization coupled with rigid research and funding structures often hinder the ambition to unleash fresh perspectives in scientific inquiry. From climate change to public health, the Schmidt Science Polymaths utilize the depth of their knowledge across a breadth of fields to find new ways to solve some of our hardest problems for public benefit."
To find out more, please visit the Saxe lab page
Media contact:
For more information or to speak to the researchers involved, please contact:
April Cashin-Garbutt
Head of Research Communications and Engagement, Sainsbury Wellcome Centre
E: a.cashin-garbutt@ucl.ac.uk T: +44 (0)20 3108 8028