SWC hosts first ever In2research Away Day
7 April 2022
Could a PhD be the right fit for me? To help answer this question for young people from disadvantaged backgrounds, the Sainsbury Wellcome Centre was excited to host the first ever In2research Away Day.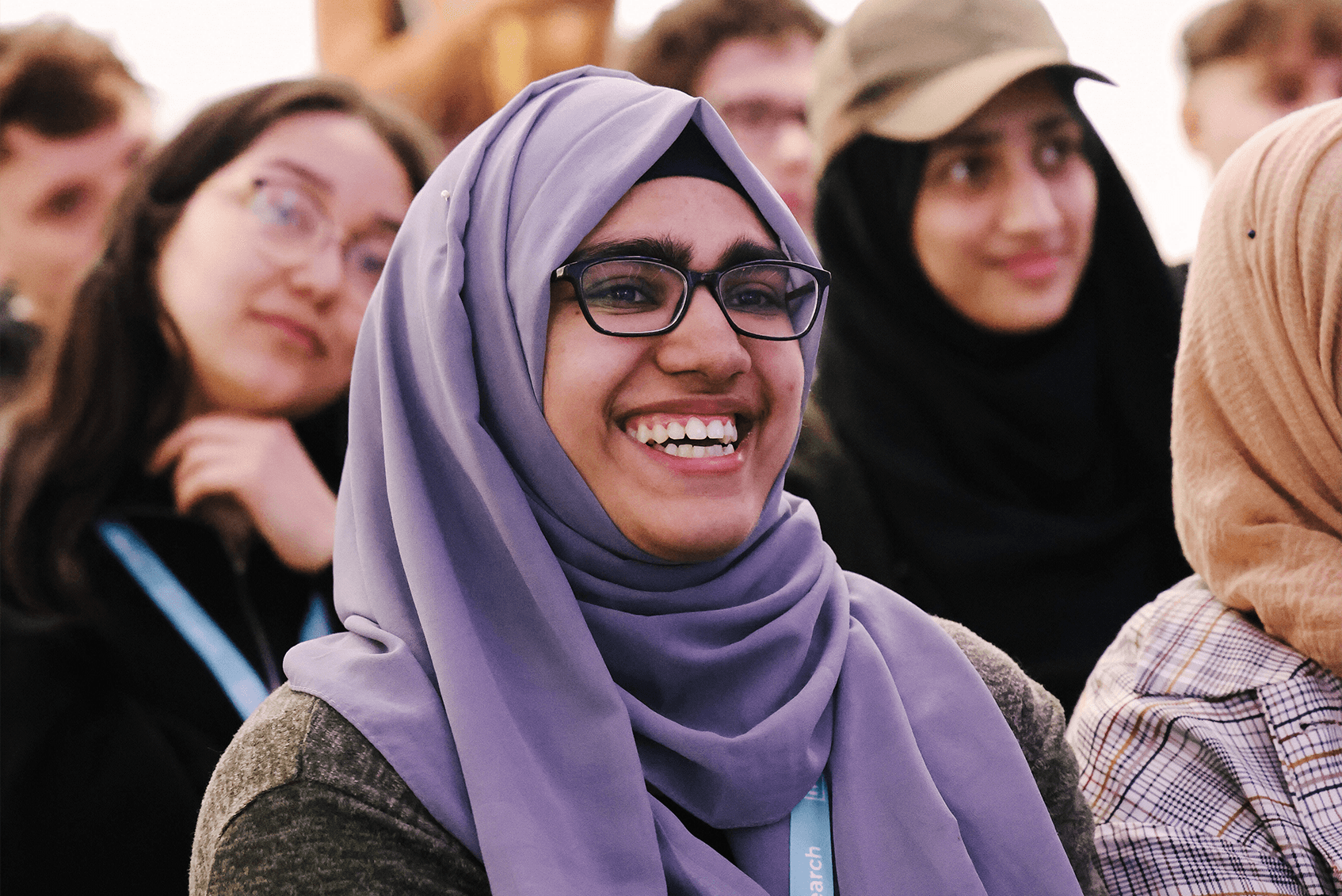 In2research participants enjoying the first away day at SWC. Image credit: Amanda Summons Creative
Following a successful online mentorship programme, the Away Day gave the chance for In2research participants to meet face-to-face for the first time and develop their networks. The day began with an inspiring introduction by In2research co-founder Dr Rebecca McKelvey who talked about her motivation for starting the programme as a way of getting the smartest people from all backgrounds into research.
Rebecca shared her personal journey of studying a degree in Biology, working as a teacher and then embarking on a PhD in neuroscience. She spoke to the participants about how they may sometimes find themselves in situations that "feel strange" and that research can feel like a very different environment to anywhere else. Through In2research, Rebecca and the team aim to support people from disadvantaged backgrounds and help them develop new networks so they can become the voice of the future.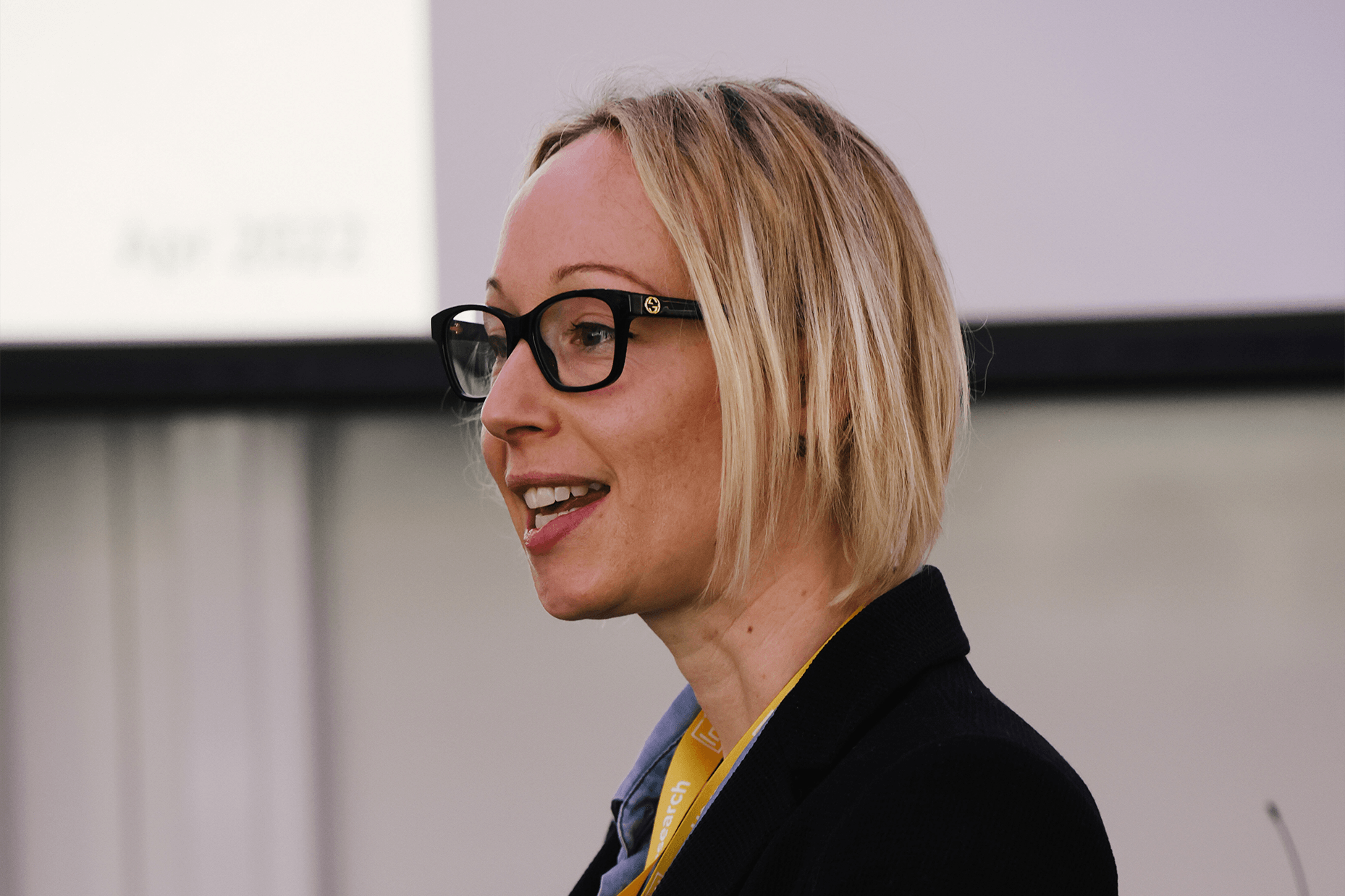 Dr Rebecca McKelvey giving an inspiring introduction at the first away day at SWC. Image credit: Amanda Summons Creative
The first workshop of the day involved participants interacting to really get to know one another by finding the most unique thing in common. Amazingly, one group of students all discovered that they'd been to Barcelona in 2015! Next, participants had the chance to build their collaboration skills by discussing research questions that encompassed all of their varied skills. This exercise encouraged blue sky thinking and showed the value different skills and backgrounds can bring to solving big problems such as using machine learning to optimise cancer surgery in the brain. The participants also had the chance to practice their presentation skills, sharing how they'd approach the difficult research questions set by other participants.
One of the highlights of the Away Day was the keynote talk by Dr Mark Richards, Senior Teaching Fellow, Imperial College London. Dr Richards spoke of his fruitful and varied career, sharing openly his journey from growing up in Nottingham, studying chemistry as an undergraduate at the University of Manchester and working for an instrumentation company before deciding to embark on a PhD in Atmospheric Physics at Imperial College London. Following his PhD, Dr Richards worked in finance for a while before realising his passion lay in innovation. Dr Richards shared his research on air pollution monitoring and how this led him to found a company called Duvas Technologies, which now have air monitoring units all over the world.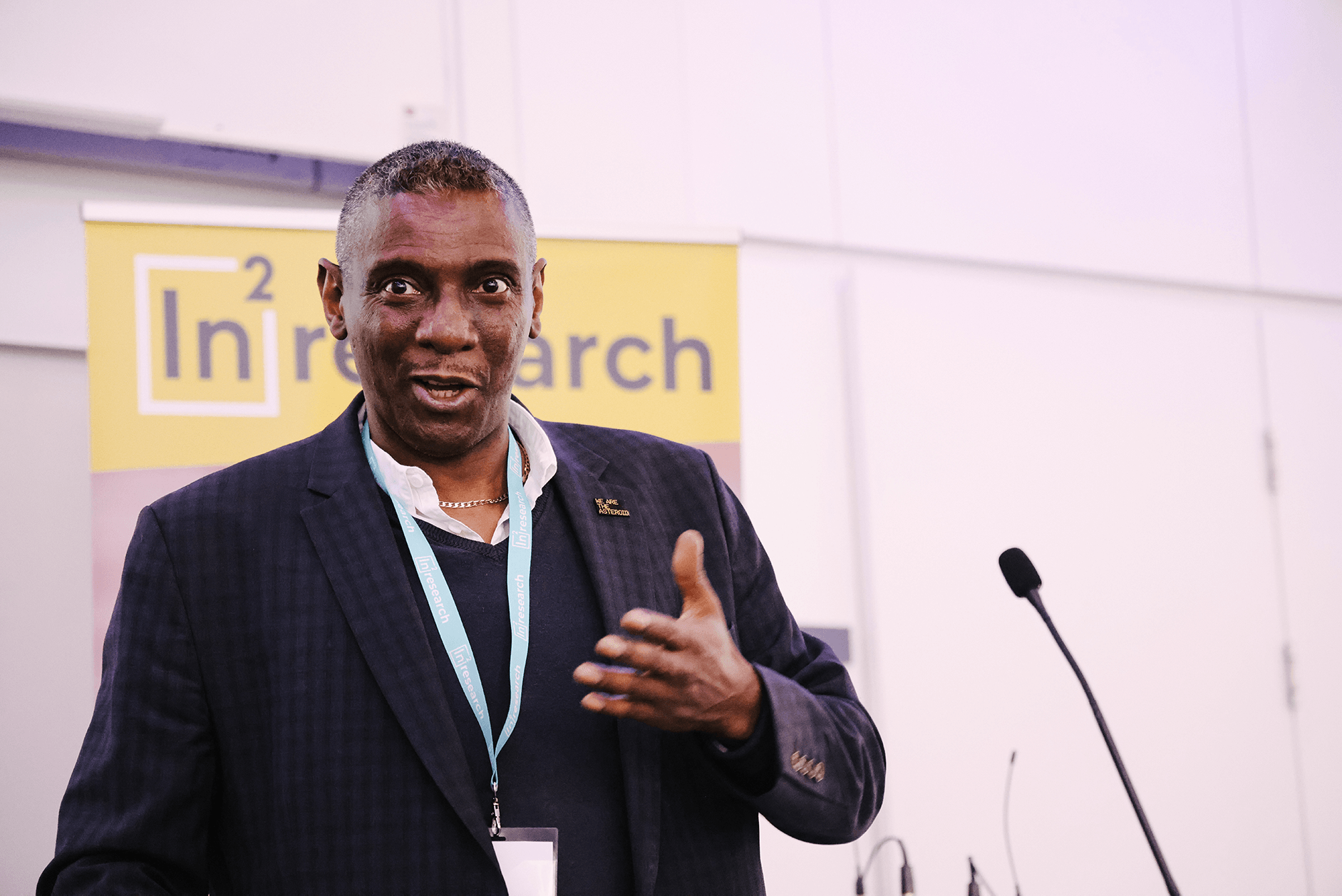 Dr Mark Richards giving a thought-provoking keynote talk at the In2research away day at SWC. Image credit: Amanda Summons Creative
One question Dr Richards poignantly asked was 'Why aren't there more people like me studying physics at places like Imperial?' He realised that the problem lay much earlier in the pipeline, which got him interested in outreach and led him to found the Blackett Lab, a network of Black physicists and alumni. Dr Richards stressed the importance of demystifying elite spaces and sharing experiences from people that may have trodden the same path many years earlier. 
Keeping your passions was also something Dr Richards strongly encouraged. Throughout his career, he's never lost his creative passion as a DJ. He shared how his background as a physicist even gave him an edge through understanding the fusing of audiowave files required for remixing. Intrigued? You can check out his Soundcloud djkemist here.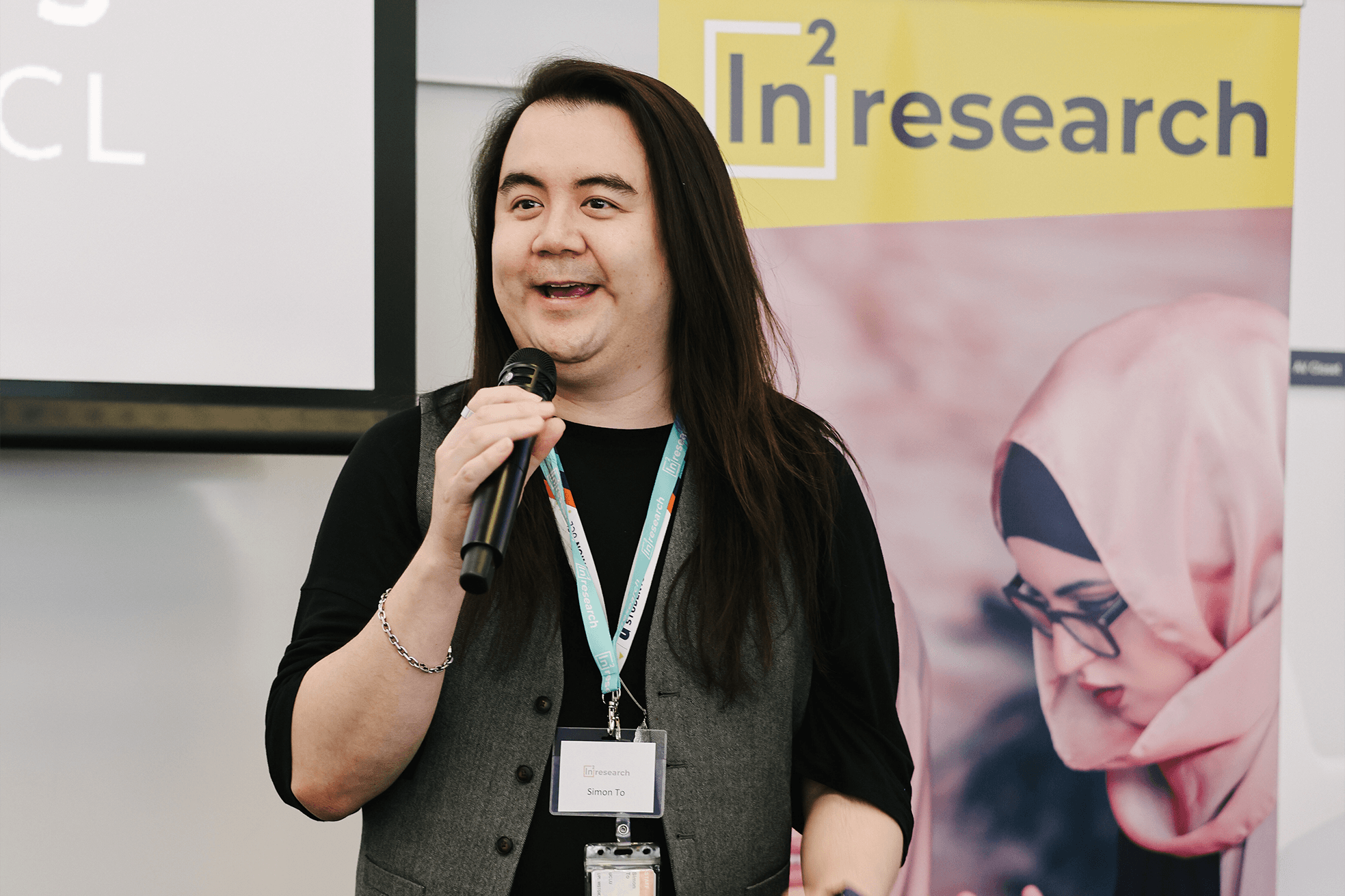 Simon To leading the 'River of life' workshop at the In2research away day at SWC. Image credit: Amanda Summons Creative
The theme of bringing more of your authentic-self continued into the afternoon with a thought-provoking and creative workshop by Simon To from UCL Students Union, an organisation that supports a vibrant and diverse network of students at UCL. After sharing their hopes and fears for the In2research programme, the participants had time for self-reflection to consider their own personal journey, the challenges they have faced and what they have achieved. Using the 'River of life' metaphor, the participants visually described their journey to where they are now and where they want to go.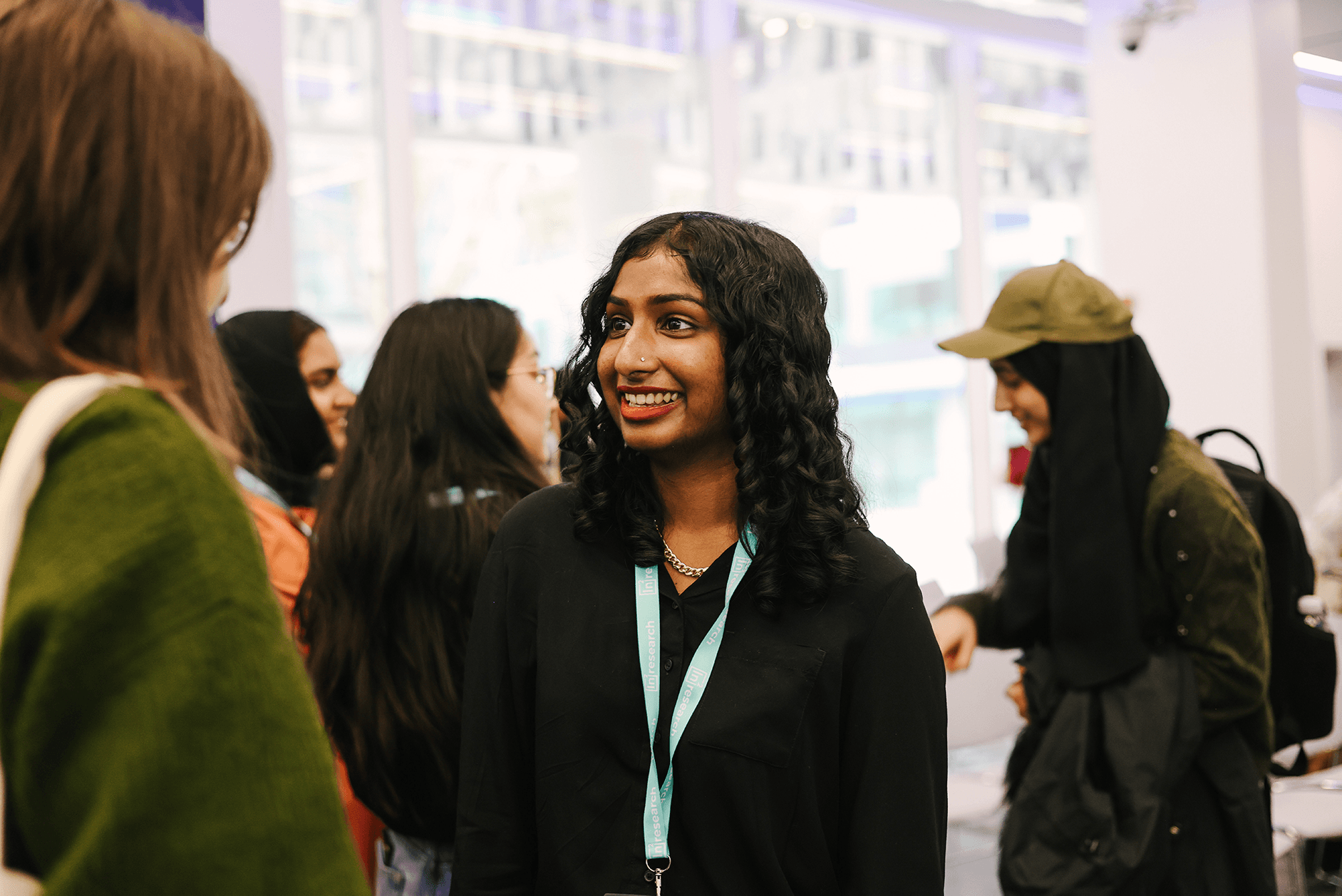 In2research participants enjoying the first away day at SWC. Image credit: Amanda Summons Creative
To continue to help the decision of whether a PhD is the right fit, the participants will next embark on an 8- week paid placement over the summer to gain first-hand experience of research. We look forward to the next Away Day in September to hear their experiences and celebrate the completion of this year's programme.  
Read more about SWC's partnership with In2research 
About In2science UK
In2scienceUK is a charitable organisation which supports young people from low-income backgrounds to achieve their potential and progress to apprenticeships, degrees and careers in the STEM sector. The work conducted by In2scienceUK addresses the annual shortfall of 40,000 STEM-skilled workers in the UK today.
The charity was founded in 2010 by Dr Rebecca McKelvey, previously Head of Science at an East London school, who was inspired to take action to address the low participation and lack of opportunities for young people from poor backgrounds when pursuing their interest in STEM subjects.
Follow In2ScienceUK on Twitter, LinkedIn or Instagram.
Contact:
For more information or to speak to the people involved, please contact: