SWC scientists inspire ripples of curiosity at local school
31 May 2023
By Hyewon Kim
As SWC Microscopy Specialist Peter Gordon shone a UV torch into a bottle of tonic water, the classroom filled with gasps as the clear liquid turned blue. The tonic water served as a prop to explain fluorescence, a concept neuroscientists take advantage of to label populations of neurons or subcellular structures such as nuclei. This was just one of many "aha" moments during a recent SWC trip to a secondary school in London.
Sharing our science with students
Following our visits in 2019 and 2022, SWC volunteers went along to Greenford in West London earlier this month for another day filled with science and activities in celebration of the William Perkin CofE High School Founder's Day. Three years ago, students learned to debunk common myths about the brain, saw a robot demonstration by SWC volunteers, and engaged in a microfluidics exercise. Last year, students participated in hands-on activities ranging from a cerebellar adaptation experiment to a Mindflex game and a chance to control someone's arm with their brain.
This year, the theme of the day was "Chemical Attractions", which offered the perfect chance to showcase the excellent work of the SWC Microscopy and Histology team. Peter and Histology Research Scientist Jessica Broni-Tabi devised engaging activities for Year 10 students to get a glimpse of the important role chemistry plays in visualising the brain. "I enjoy it when we have student visits to the lab and this was an opportunity to go into a bit more detail about various aspects of the work I do and include some practical elements," Peter shared.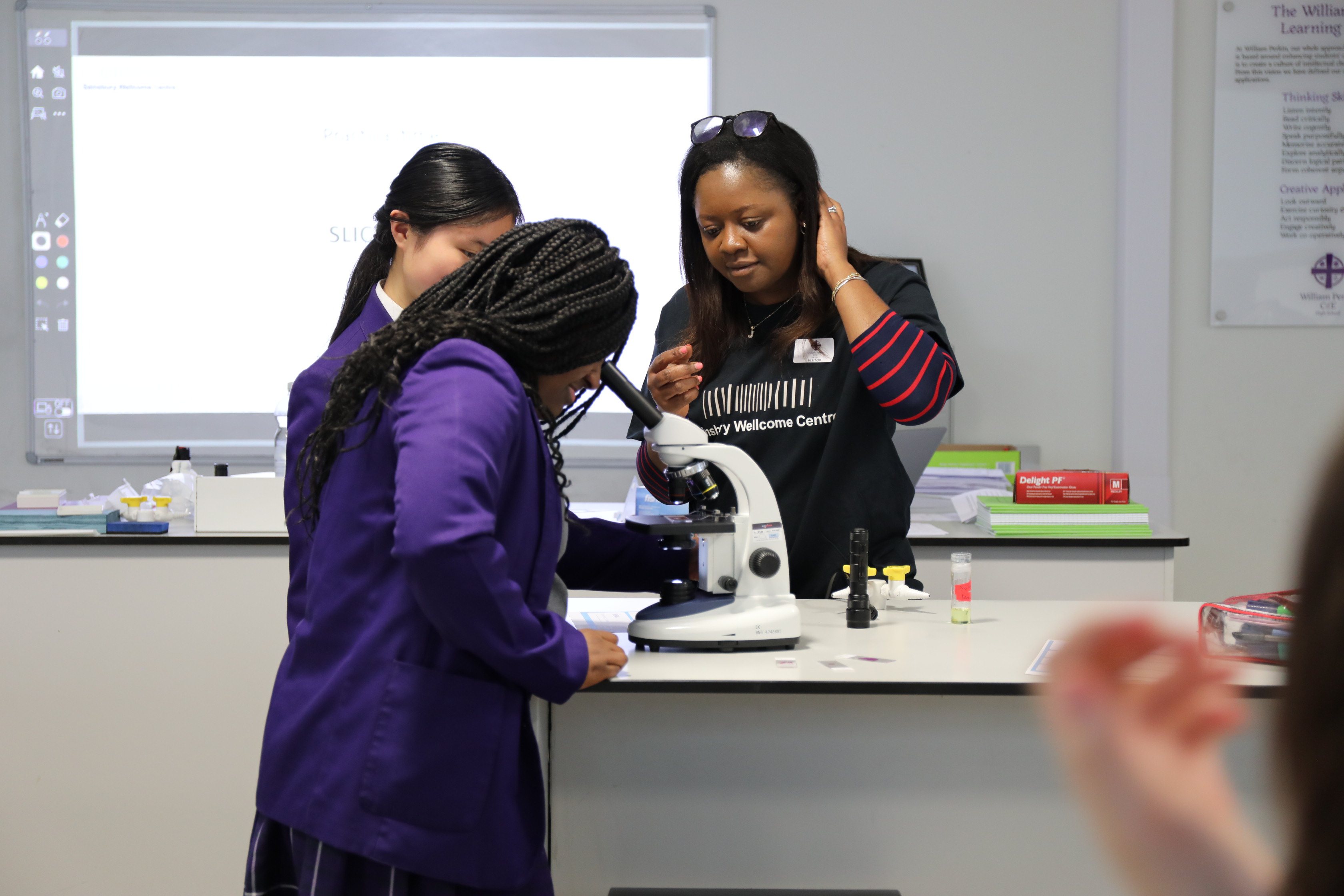 Making complex concepts accessible
Jessica felt strongly about engaging with schools to highlight opportunities within science. When developing her activity for the students Jessica "thought about the theme of the event and how it links with the chemicals [she] uses day to day." She decided on an exercise where the students could identify whether a given brain tissue is from a human, mouse, or a pig by looking at it under the light microscope. To draw in the students more, she related the chemical processes to real life experiences such as hospital pathology labs.
During his presentation about microscopy, Peter demonstrated to students an 'acrylic bread loaf'. The loaf consisted of slices through which he shined a UV torch to show how each laser-cut slice can be lit up individually. "When explaining 3D imaging or clearing, I tend to use metaphors," he explained. "I don't always know the technical elements to imaging and I find it easier to remember things visually, therefore, a loaf of bread."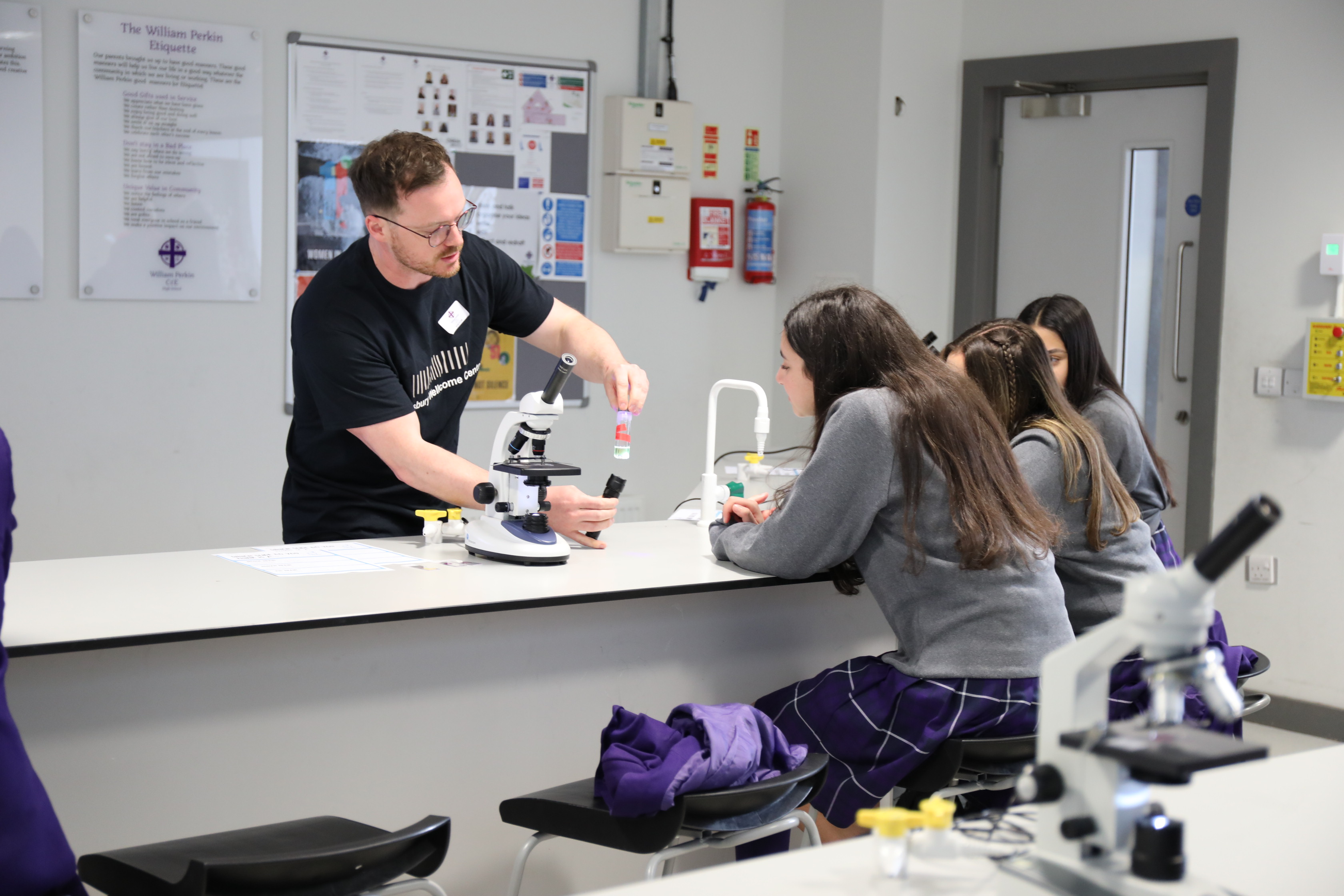 Strength in reflections
At the end of each workshop, the students were asked to write a postcard to their future selves about what they would like to remember from their experience. Feedback from the students was encouraging and provided direction for our future engagement activities.
"Today I learnt that some dyes will only attract to certain cells and that you can mutate animals to glow in the dark. This is also a way to find cancers and what stage it is at. I loved it!", shared one student. "What I found interesting was to learn about fluorescence and to turn parts of tissue invisible in order to scan it and see it better. I found it cool to see different animal tissue under the microscope," shared another.

For the Microscopy and Histology team, the volunteering experience was worthwhile and rewarding. Envisioning possible future scientists was an energising thought Jessica took away from the day. She also learned from the questions that the students asked. "I realised I had to change my communication and language to make more impact throughout the sessions," she shared. Peter gave a few words of encouragement to upcoming volunteers: "You have no idea how far your time with them will ripple into their future decisions. When a kid realises their ideas are valid and not silly, that can have quite a big impact on them."
Reimagining impact
To reach more students in the future, the SWC is expanding our engagement activities to teachers. Next month, we are participating in the Teachers Hub at the Big Bang Fair in Birmingham with the goal of empowering teachers with neuroscience and AI lesson plans. Following on from a successful pilot event for teachers in April at SWC, we hope to continue building relationships with teachers and, in turn, budding neuroscientists across the UK and around the world.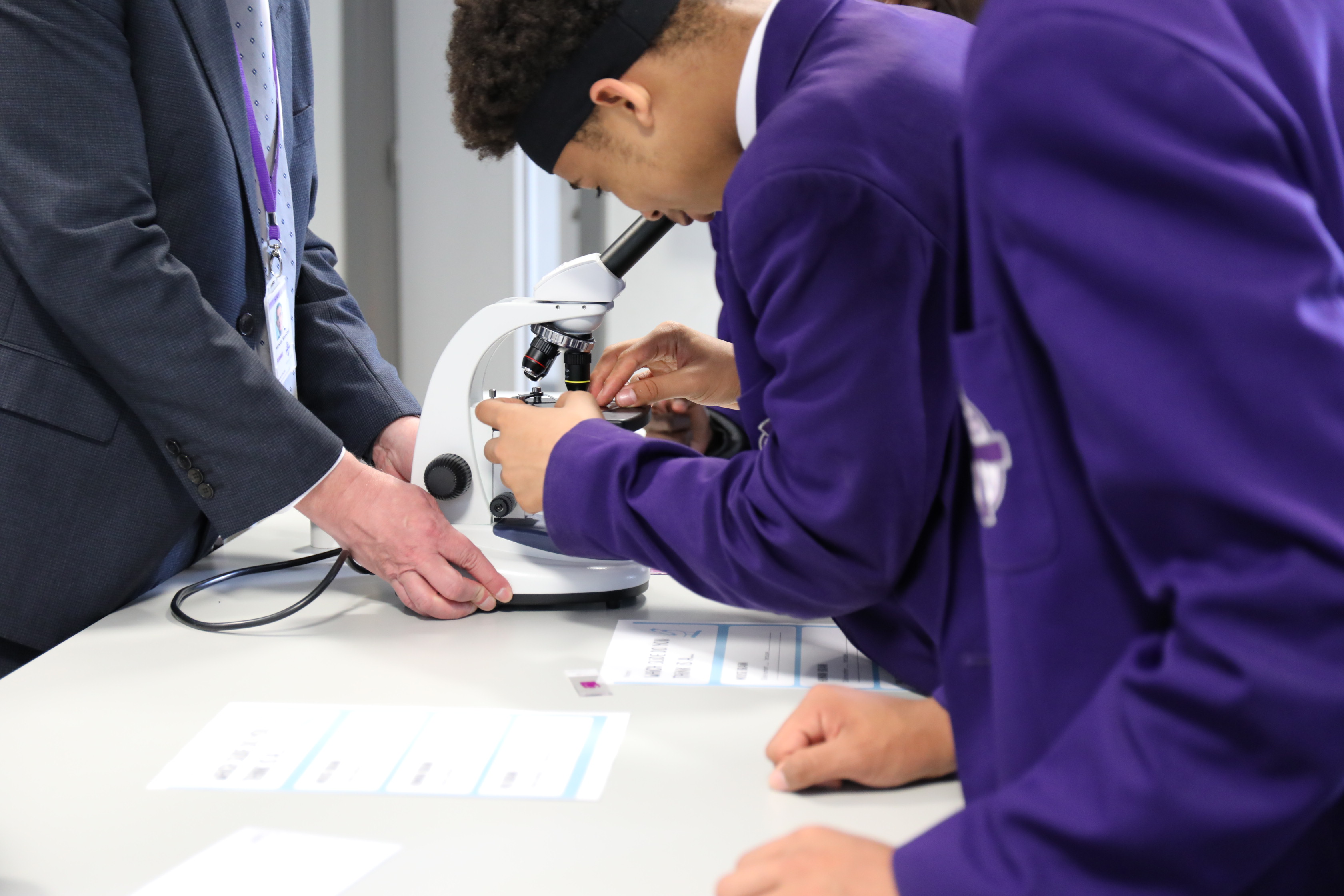 "It's really rewarding to see the students get excited and think creatively about what the possibilities are," Peter remarked. As we reflect on SWC's engagement with students of diverse ages and backgrounds, as well as members of the immediate Fitzrovia community and greater London, it becomes clear that the impact of a scientist lies not only in traditional metrics, but also in "forg[ing] much deeper connections with wider society". For Jessica, the impact lay in "demystifying what we do in the labs and the sense of giving back."