Celebrating another chapter of sustainability at SWC
17 August 2023
By Hyewon Kim
On the roof terrace at SWC breathes a wildflower garden. The flowers are often joined by researchers and staff spilling out from the Brasserie to catch up over lunch or wind down with refreshments at the end of the week. Habitats for a diversity of animal species, these low-maintenance wildflower meadows feed pollinators like bees and butterflies with pollen and nectar. Birds and detritivores also benefit from seeds and fallen leaves.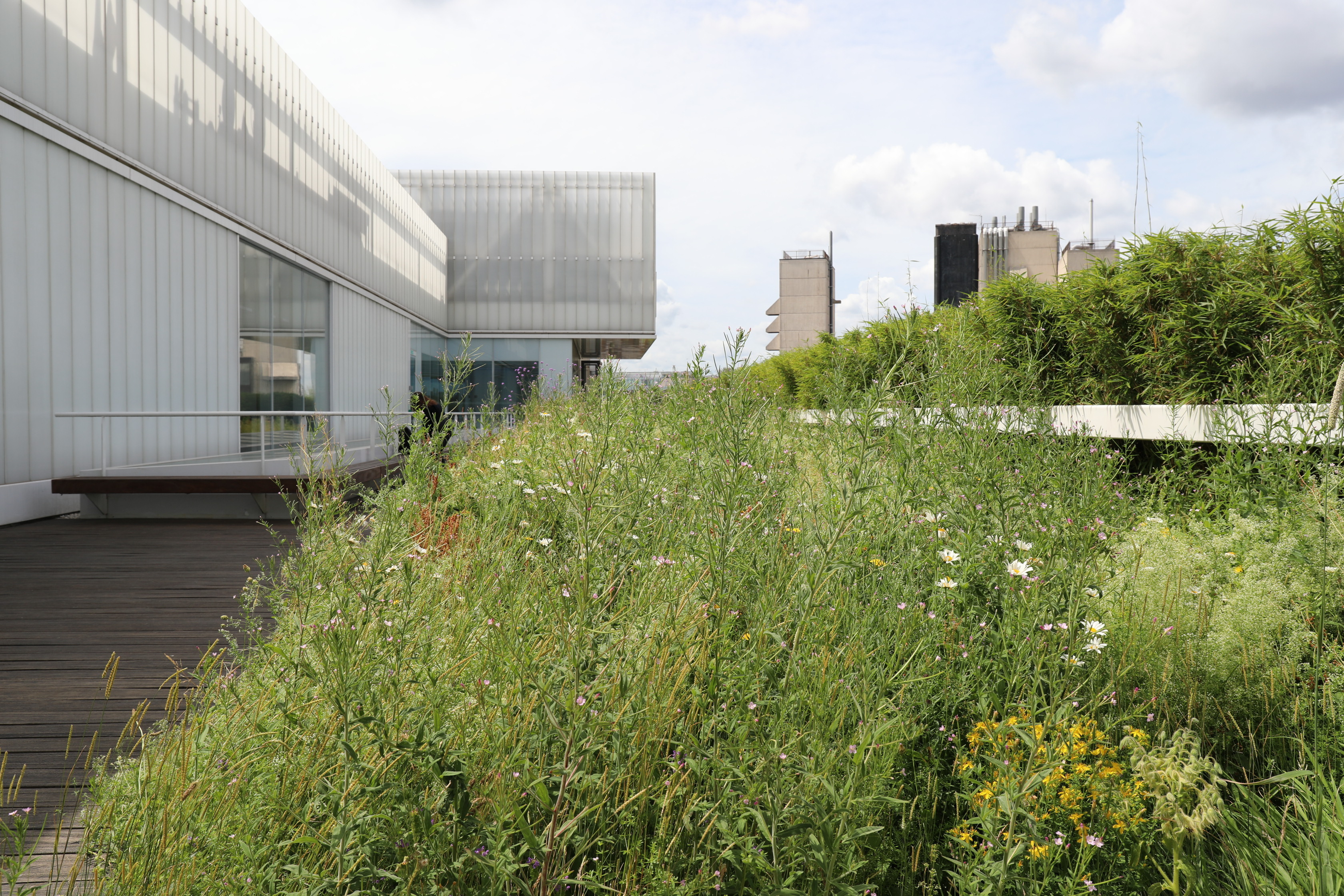 Wildflower garden at SWC
Three consecutive Gold LEAF awards
Following on from 2021 and 2022, SWC has received a third Gold award as part of the Laboratory Efficiency Assessment Framework (LEAF).
A standard created by UCL, LEAF aims to guide institutions around the world to reduce their laboratories' carbon emissions. The key is improving their efficiency and sustainability – using LEAF's online toolkits and resources, labs are encouraged to continually find and address areas for improvement.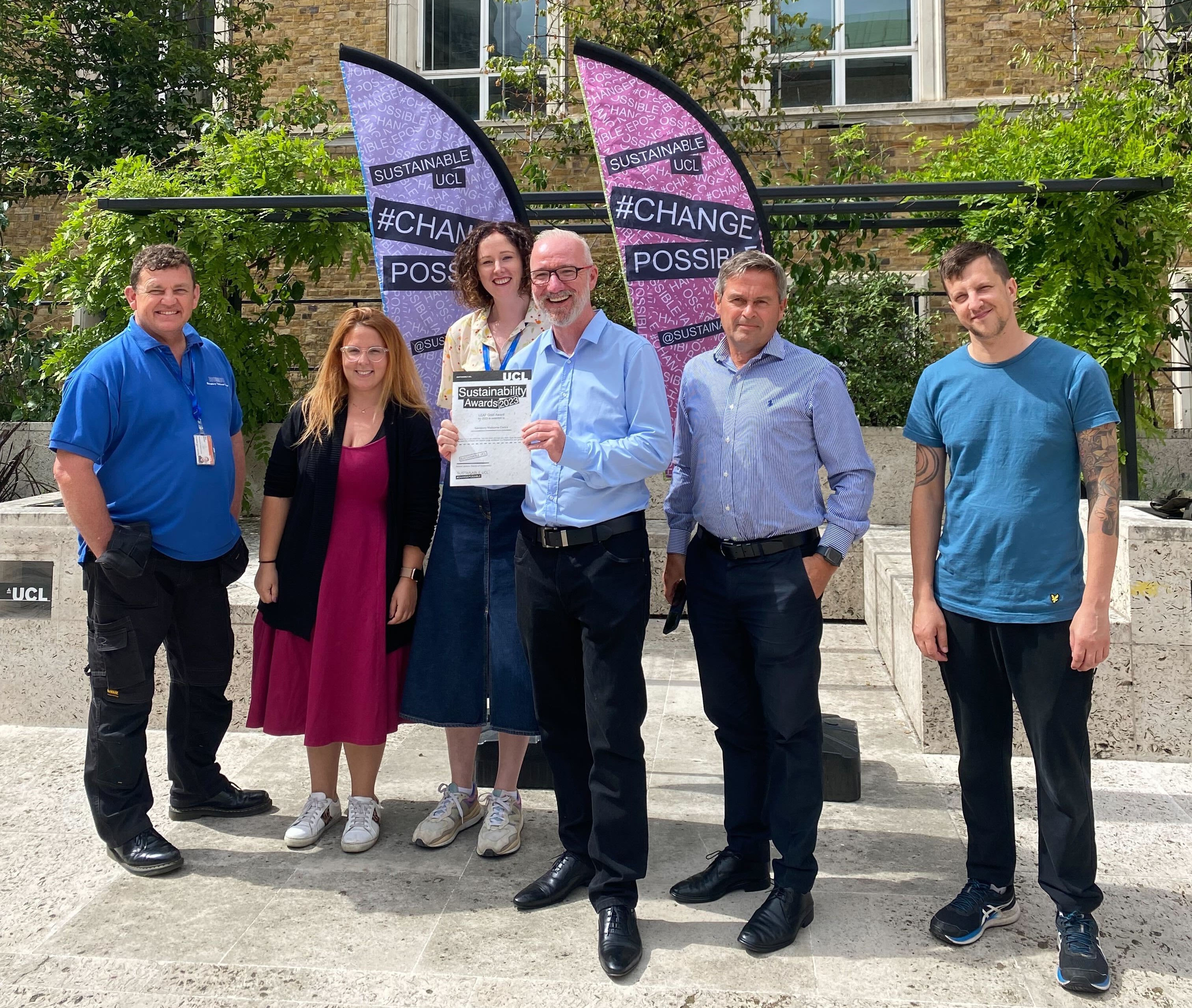 Mark Bartlett, Panagiota Iordanidou, Eve McLoughlin, Bryan O'Connell, Doug Ward, and Tommy Tagg representing SWC at last month's UCL Sustainability Awards
Replace, refill, reuse
On the last Friday of every month, the SWC Green Team meets in the library within view of the garden, to go over actionable items. Recently, there have been efforts to involve Professional Services like the Scientific Computing, Neuroinformatics Unit, Stores, and FabLab teams in addition to the Neurobiological Research Facility (NRF) who had been involved since SWC's first Gold LEAF award. From procurement and delivery to data processing infrastructure, any sustainability idea that can be concretely acted on by researcher and staff alike is welcome.
Cumulative efforts to introduce small changes have been ongoing. Two years ago, the NRF introduced biodegradable alcohol wipes to the building to replace synthetic fibre disinfectant wipes that do not break down.
A year ago, the Green Team introduced refillable bottles for washing-up liquid. Thanks to Centre Laboratory Technician Tommy Tagg and the cleaning crew, these bottles are being refilled for the laboratory and kitchen areas, saving around 30 bottles a year. The team also added glass bijou containers to animal surgery rooms, reducing plastic waste.
Earlier this year, the Laboratory Management Team introduced reusable fabric hairnets to replace disposable hairnets for lab areas. Through a competition open to all in the building, a winning design was chosen to be embroidered onto the fabric. Another addition to existing laboratory procedures have been refillable Eppendorf tube containers and pipette tip boxes, managed by our Laboratory Aide.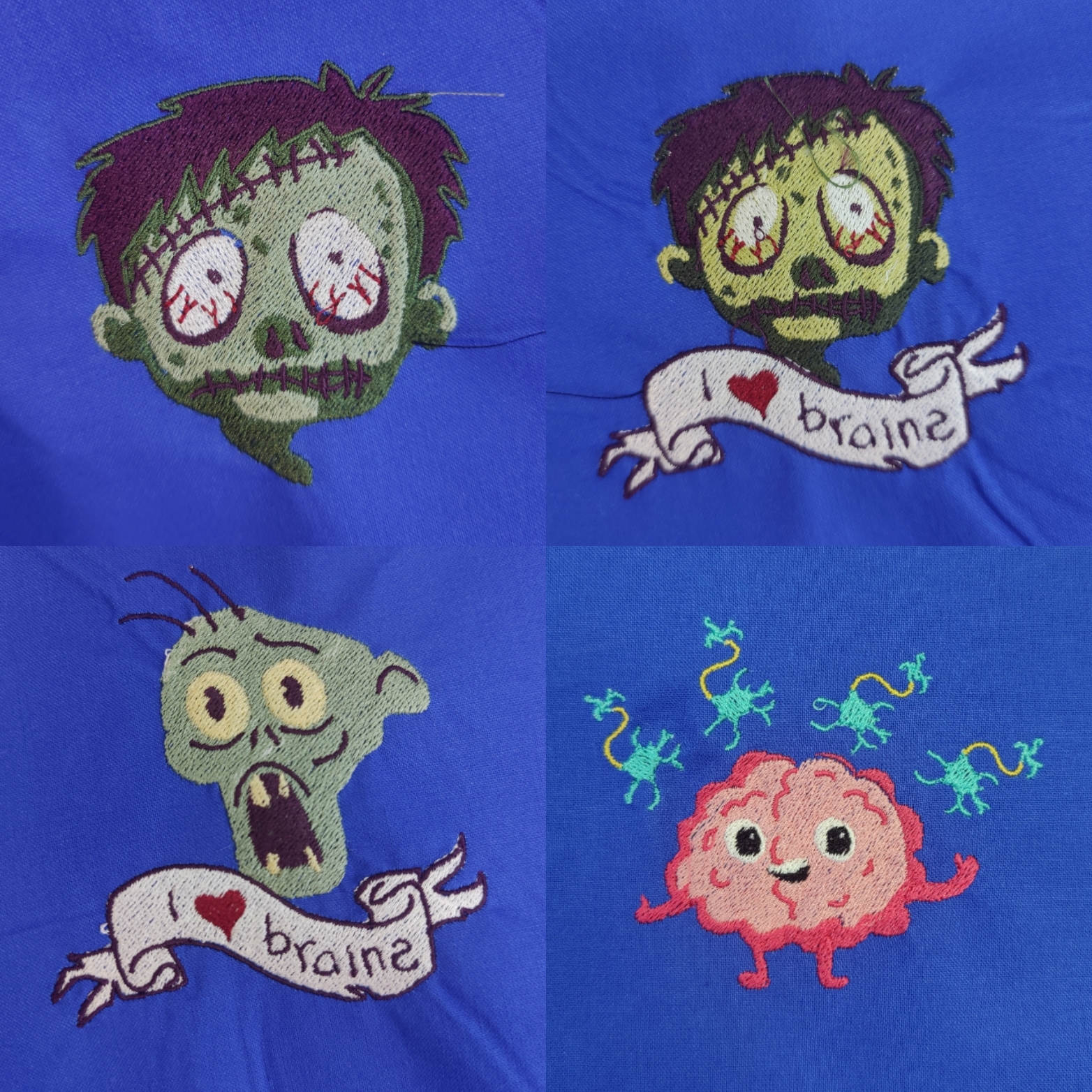 Winning designs from the fabric hairnet design competition
Sharing meaningful stories to celebrate and encourage sustainable practices
Last October, the Green Team started a new initiative called Sustainable Stories where at the start of each week, we highlight stories about building-wide or lab-centred efforts toward sustainability in our internal channels.
A cumulative 48% reduction in clinical waste in the past two years. A reduction in liquid nitrogen usage from 1000L to 100L per month. Traffic light coloured stickers on communal lab equipment for reliable switch-offs. Signs on ultra low temperature freezers to minimise ice build-up.
"Who thought crabs could save trees?" asked Sanna Titus, Research Assistant in the Branco and Margie labs, in one Sustainable Story. She shared that not only do they use microfibre towels to eliminate paper towel use when receiving a new Fiddler crab import, but also when cleaning the Crabitats. The husbandry team has eliminated the use of single-use plastics, with the exception of a thrice weekly water quality photometer test.
"We reuse excess materials already present at the SWC, wherever possible," Sanna continued. An old shipping container found in building storage, for example, was recently repurposed as a larger second Crabitat. According to Aquatics Research Facility Manager Joe Higgins, the new build tanks are fibre glass, which will last a long time. The pumps were also upgraded to titanium propellers – lasting ten times longer than plastic. Plastic buckets were replaced with instant ocean refill packs so that the packaging could be recycled.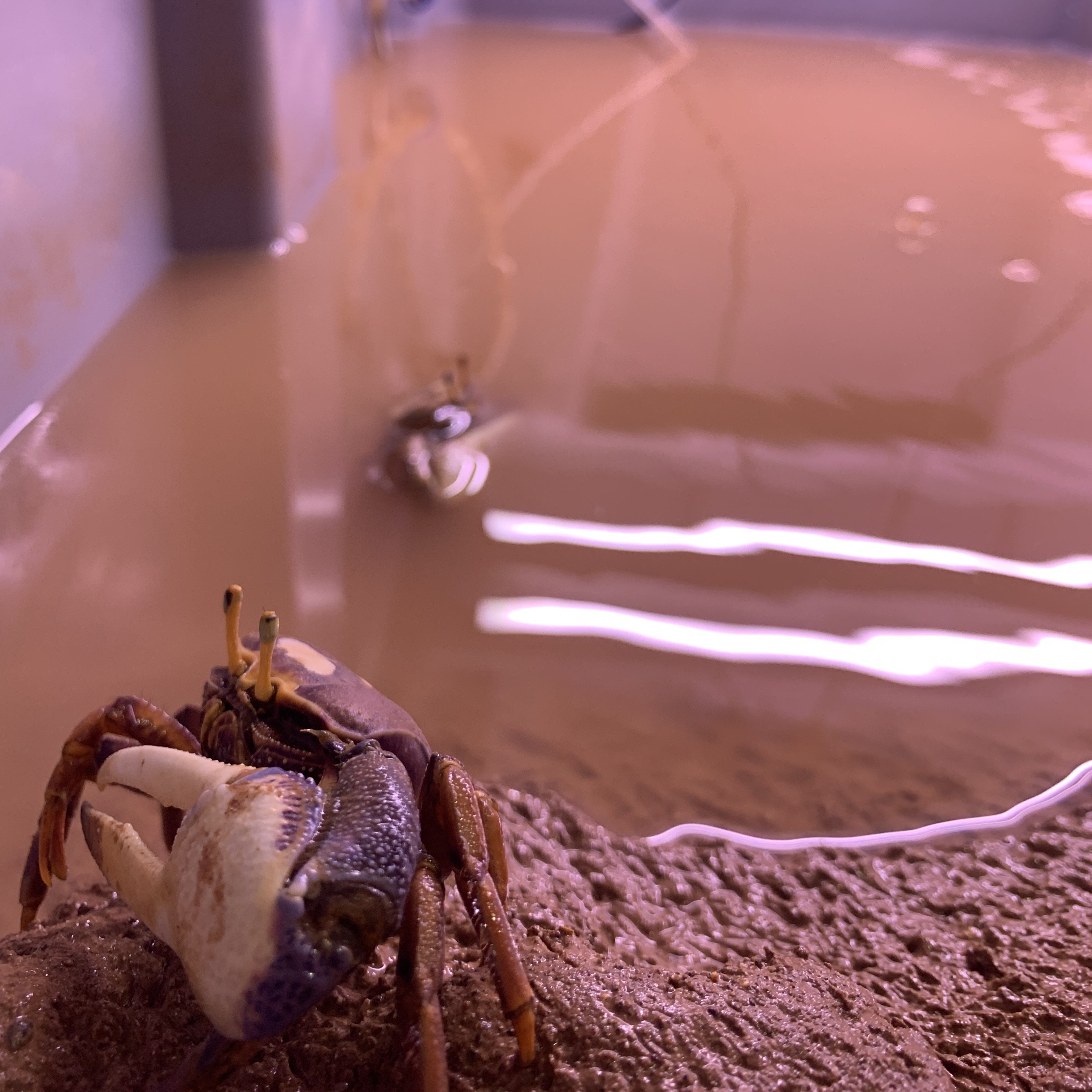 The Crabitat at SWC. Courtesy of Sanna Titus
In a similar vein, another story highlighted a how a fixed laboratory benching that was removed whilst renovating the lab space for a rat training room for two labs at SWC was salvaged and repurposed as new worktops in a chemistry lab in the Christopher Ingold Building at UCL.
To enable further recycling of lab equipment, one story shared how SWC also manages an offsite storage facility to house lab equipment so that any researcher can review the existing inventory before purchasing new equipment. Unwanted lab equipment, kits, consumables, and tools can also be dropped off in a lab recycling cupboard in the building for anyone to use.
Contribution from every corner
Encouraging people to take the stairs where possible by placing a 'free workout' sign next to the ground floor lifts since February has been one way to collectively improve energy efficiency.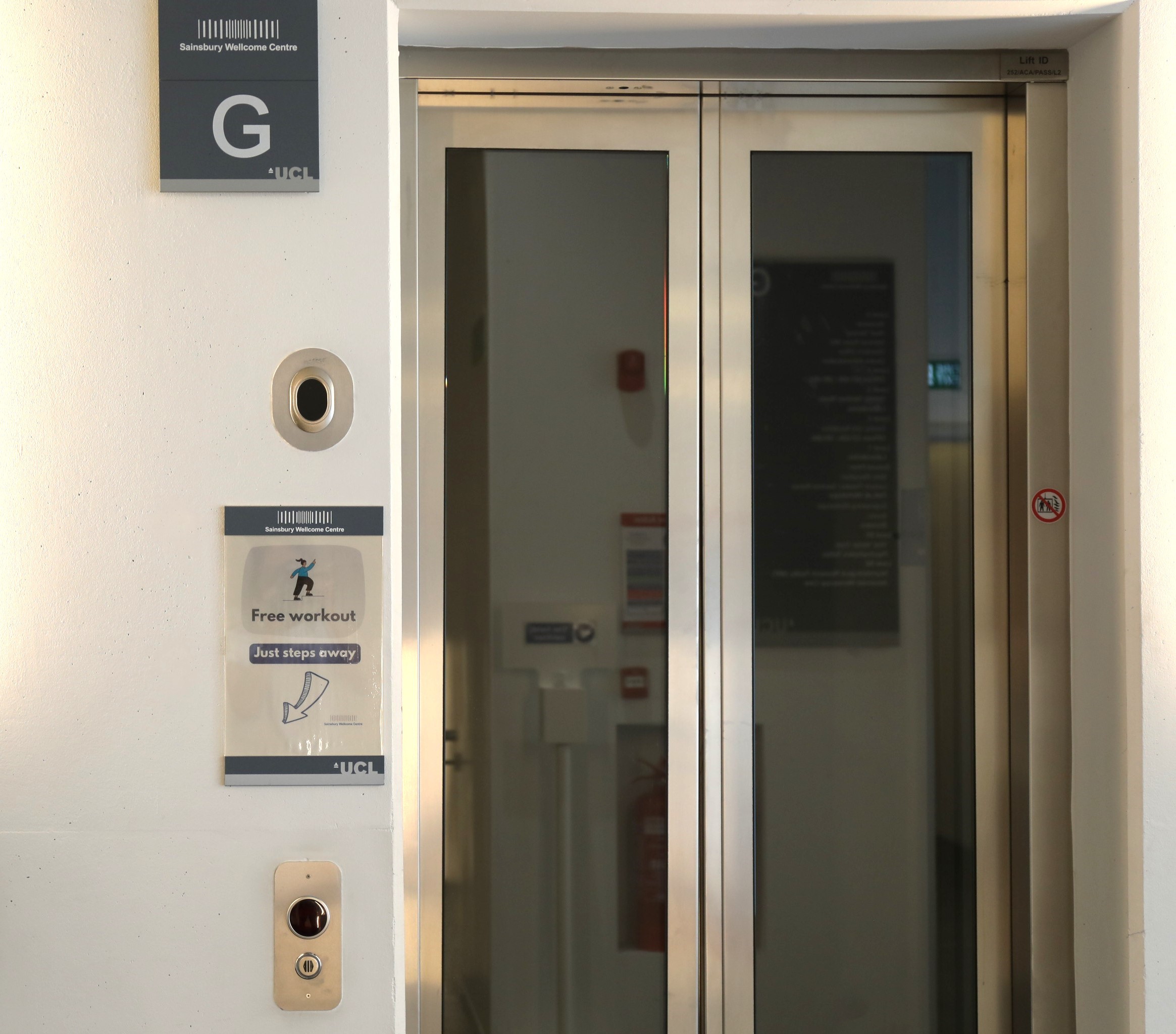 With adjustments to the air handling time and lighting schedules that control office areas, 63,000 kWh less electricity was consumed in the first six months of 2023 compared to the same period in 2022.
The Green Team, open to anyone in the institute, is now looking to make use of the data collected by energy meters and loggers to paint a fuller picture of the impact of the new initiatives on broader output.