Inquisitive minds seek to improve sustainability at SWC
19 August 2021
By Hyewon Kim
"It can be challenging to get everyone engaged," says Blanche Kollo, Centre Laboratory Technician and 'green champion' of SWC's sustainability team. "But the more we see results, the more our curiosity is piqued. With each positive development, further events can be held to push sustainability forward."
Queue of bikes leaned against a bench waiting for upkeep. 40 recycling-bins-turned-planters. Book donations. Equipment timer plugs. Addition of oat milk to communal kitchens. 100% biodegradable wipes for cage cards. These are just a handful of the initiatives the green team at SWC have introduced in recent months.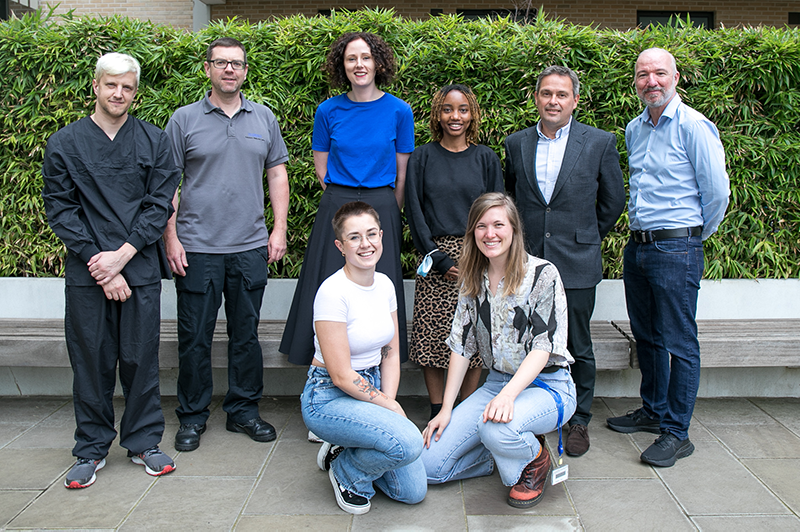 Some of our green team members in the SWC courtyard (Credit: Emma Bennett)
Improving sustainability in research output
Couple of weeks shy of the one-year mark of lockdown, a group of staff and researchers at SWC came together to optimise management of existing operations with the goal of improving sustainability in research output. Less than six months later, the team was awarded a gold LEAF (Laboratory Efficiency Assessment Framework) certificate by UCL.
Eve McLoughlin, Centre Laboratory Manager, highlights the green team's strategy as paying attention to small improvements in labs and questioning the way things are already being done. With adequate input, the team has challenged some of the status quo like the freezers, cold room, and gas monitors. Did the virus freezer really need to be maintained at -80C at all times? Was the cold room actually being used? Did the gas monitors truly merit the currently high maintenance costs?
"Having experts in the Centre like Gemma (Viral Vector Core Manager), Jessica (Histology Research Scientist), Rob (Advanced Microscopy Research Scientist), and the Advanced Manufacturing Fabrications Lab means research quality can stay high. That leads to reduced need for repeating experiments, thus less materials and samples," Eve points out. The team's sustainability efforts have also been buoyed by the energy efficient design of the building itself.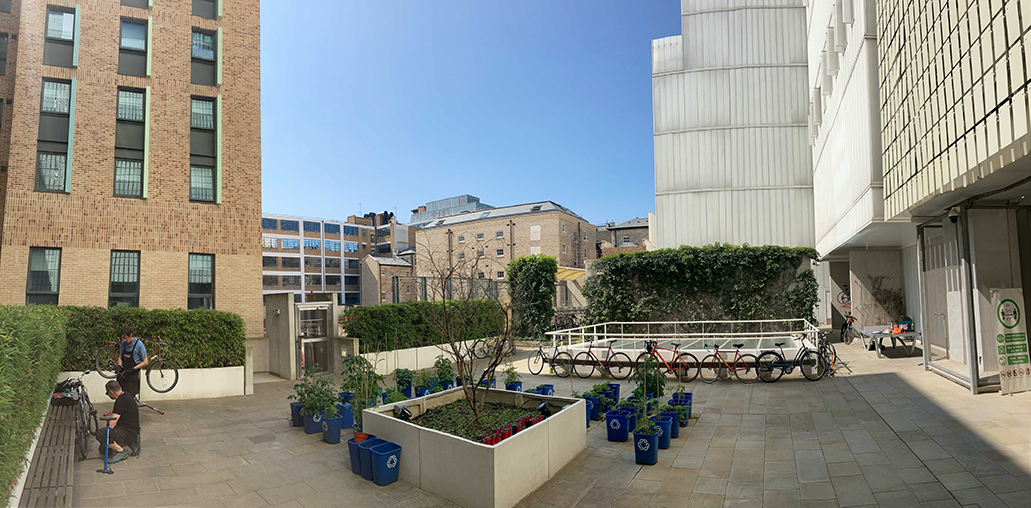 Dr Bike, a two-day session for anyone in the Centre to bring in their bikes for maintenance by experienced mechanics (Credit: Elena Menichini)
LEAF at UCL
LEAF was established by UCL in 2018 to introduce a standard for sustainable laboratory practice across multiple research institutions in the UK & Ireland. The initiative sought to address a lack of guidance for improving the environmental impact of research laboratories, which take up 5-10 times more energy per m2 than non-laboratory office spaces. Particularly of note, LEAF lends weight to the idea that with sustainable research also comes reproducible research, a topic that has garnered attention and sparked discussion within the neuroscience and psychology communities.
"Prior to our taking action, there used to be no concrete waste management policy in the Centre," continues Eve. "Some waste was classified as clinical waste when it didn't need to be, which meant they were incinerated at higher temperatures compared to regular offensive waste and thus cost 5-6 times more financially. Offensive waste is incinerated at a lower temperature, which means it's less bad for the environment and there's an option for energy recovery, i.e. energy being returned to the grid." Once the bins were changed throughout the Centre to accommodate for this distinction, there was a 28.5% reduction in clinical waste, and an 8.3% reduction in offensive waste. Old bins were then used as planters for strawberry and tomato plants in the courtyard, or donated to UCL's sustainability team, where there are less waste streams. Thanks to Ian Blaney, Stores & Logistics Manager, people in the Centre only take the supplies they need and the Distributor Takeback Scheme allows for equipment to be returned to the manufacturer for recycling.
Connecting virtually
With workplace restrictions persisting throughout the green team's debut early this year, conversations surrounding sustainability have also been taking place virtually. Subjects like potentially cutting down energy expenditure of freezers, recycling toners and cartridges for ink jet printers, as well as benchmarking off of existing sustainability efforts in other leading research institutions (led by PhD student Nicole Vissers), have been circulating through an internal online channel for anyone interested to take part. Seeing progress pictures of the strawberries, peppers and tomatoes planted in the courtyard as part of the fruit and vegetable growing initiative has been a highlight this summer for many.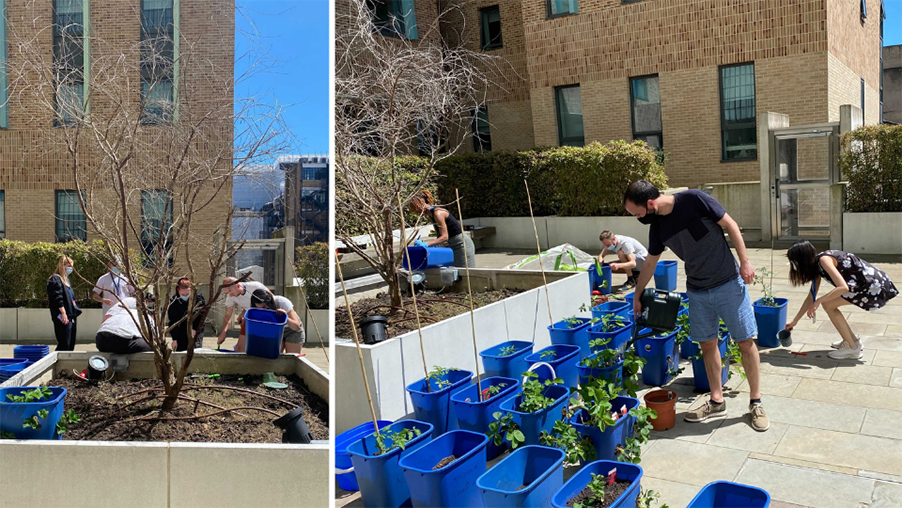 Strawberry, tomato, and pepper plants were given new homes in recycling-bins-turned-planters in the courtyard (Credit: Eve McLoughlin)
Celebrating the green team
"It's fun," remarks Bryan O'Connell, Facilities and Safety Officer as well as inaugural member of the SWC sustainability team. "Being in the green team means you can implement your changes and see your ideas actually pan out." He also notes how sustainability efforts can benefit community building, as well as research culture itself: it nudges researchers to question how experiments are done. "The secret to planning and carrying out sustainability events is to make it easy for people – minimise the process of their having to think about it before taking part."
At a breakfast meeting to celebrate the team's accomplishments following the LEAF certificate, ideas buzz across the conference table in the 5th floor library. Voices comprise a heterogeneous yet uniformly dedicated mix of perspectives, from the Neurobiological Research Facility, to lab spaces and building operations. Jamie Redden, Standards and Licensing Officer and Home Office Liaison Contact, suggests beehives, as well as seasonal plants for the roof garden. Miranda Mathews, Research Fellow in the Murray Lab, brings up the idea of bike safety courses to cater to a widespread interest in using bikes, but a fear of doing so on London roads. Karen Fergus, Centre and Events Coordinator, sees every idea through to execution. Doug Ward, Head of Building Facilities and Compliance, is looking into expanding space for the roof garden to provide opportunity for seasonal plants. The team has already proved itself, but this is just the beginning.
As the recent celebratory meeting showed, the energy of those contributing to this effort is continuing to build. "For every event SWC puts on, even if not related to sustainability, we consider whether or not it's carried out in the most sustainable way possible," says Eve. The vision is for this mindset to trickle into behaviours outside the Centre too. "We're realising that it's as much about helping transform people – not just external systems or procedures."
Banner photos by Bryan O'Connell